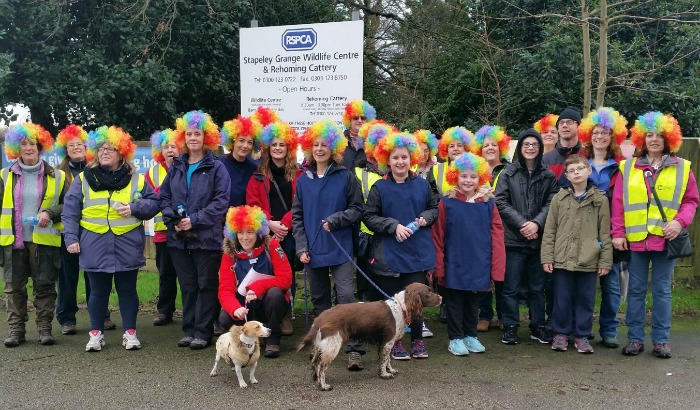 Staff at a Crewe firm strolled out on their 25th anniversary to raise vital funds for RSPCA's Stapeley grange wildlife centre in Nantwich.
Workers at Style Counsel, in Edleston Road, Crewe, took part on a five-mile walk to raise hundreds of pounds.
Organiser Caron Hull said they were inspired to help Stapeley Grange after they witnessed the work of RSPCA staff two years ago.
She said: "The centre was involved in looking after cygnets from Queens Park Crewe.
"And on numerous occasions either had them in their care or had to come out to the park for fishing line incidents.
"Without the treatment they each received, they would not have survived.
"The people at the centre all do an amazing job and the funds we have raised will be buying much-needed equipment for the centre.
"We had 25 people in total take part, from staff, clients and friends.
"Everyone enjoyed it and hopefully it will raise awareness to the centre's importance."
One of the walkers, Annette Pritchard, said: "The walk began auspiciously – the rain stopped!
"Caron supplied water, coffee, biscuits and multi-coloured afro wigs.
"We set off en masse from the shop, attracting a fair bit of attention from bemused motorists as we made our way down towards Stapeley Grange.
"As expected, the dogs set the pace.
"We all arrived in good spirits to a very warm welcome from the volunteers of the RSPCA, who had laid on a wonderful lunch."
More than £1,250 has been raised for Stapeley Grange from the walk and other events to celebrate the hair salon's 25th anniversary.
Lee Stewart, manager at Stapeley Grange, said: "We couldn't be more grateful to Caron and the group for raising much-needed funds for the centre.
"We are pleased that we helped them have a wonderful day."
The centre relies heavily on donations.
Anyone interested in supporting the centre can contact Lee on [email protected]
If you would like to help RSPCA Stapeley Grange with a donation of just £3, text RSPCA2 to 70007. Texts cost £3 plus standard network rate.