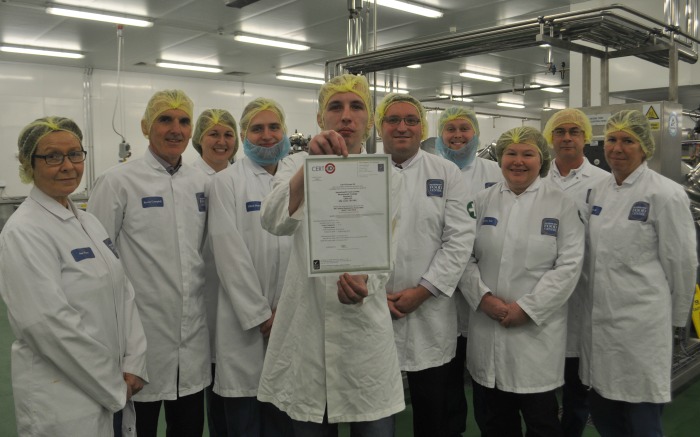 Reaseheath College's Food Centre in Cheshire has gained a globally recognised Grade A certification for food safety.
The centre in Nantwich have earned the badge from the British Retail Consortium (BRC) for the third successive year.
The college remains the first and only educational institution in Britain to achieve the accreditation for BRC issue 7.
The quality mark was approved after an audit showed Reaseheath's food manufacturing systems operate under highly controlled conditions and to highest industry standards.
Areas inspected included food safety procedures, cleanliness of the facility, knowledge of staff and students and the traceability of food ingredients.
Reaseheath newly appointed quality assurance manager Shaun Whitlock said: "Any changes to the BRC standards are a difficult time for industry, however the college has taken this head on and achieved the results we wanted.
"Changes to the standard include stricter supplier management, labelling control and prevention of food fraud.
"The team has worked extremely hard to ensure we can deliver the best possible service to our students and local businesses and should be congratulated on their success.
"Thanks to their hard work, we can ensure the ever changing standards followed within industry are replicated in a controlled learning environment."
The Food Centre's Nick Blakemore has been promoted to food centre manager, and Emily Fisher is new commercial development manager.
Julie Bent has been promoted to commercial development co-ordinator.
There have been major renovations to the bakery to allow the introduction of a bakery and patisserie foundation degree.
Reaseheath's £7 million Food Centre was opened in 2011 and remains one of the best equipped food processing teaching and practical facilities in Europe.
It has dairy processing halls and production areas for butchery, bakery, cake design and confectionery.
Many local, national and international food and drink manufacturers use the facilities for new product development, technical advice or staff training.
For further details see www.reaseheathfoodcentre.com
(Pic: Shaun Whitlock and other members of the processing halls team celebrate gaining BRC7)