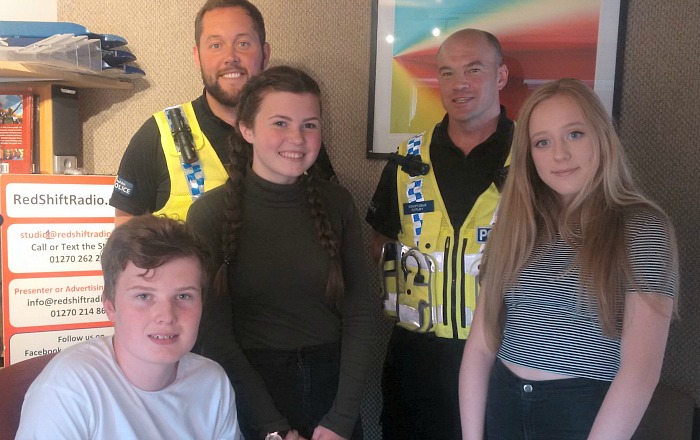 Two members of the Nantwich's community police team were grilled by Brine Leas students during a visit to the town's radio station.
PCs Matt Stonier and Marc Harley called in to RedShift Radio on London Road for the start of a monthly show aimed at connecting with the community.
And on day one they were quizzed by Brine Leas work experience students Georgina Hardy, Annie-Mae Walker and Ben Lunt.
A monthly update has been arranged with the officers so they can update listeners on the local work they are doing for Nantwich.
As well as being response officers in the local area, PCs Stonier and Harley are working in the community by visiting schools and churches to spread awareness on different issues, such as cyber bullying in schools.
And during their interview with Brine Leas students, they unveiled interesting and challenging experiences from their careers in the force.
These included PC Stonier running into a burning building, proving a role in the police force requires courage and bravery.
"It was inspirational to find out about the work they do to protect the local community, likewise to get to know them as individuals with great personalities," said Georgina, 15.
"It was clear that PC Stonier and Harley are enjoying being part of our community, as well as being seen as approachable figures for all ages."
You can tune in and find out more by visiting www.redshiftradio.co.uk