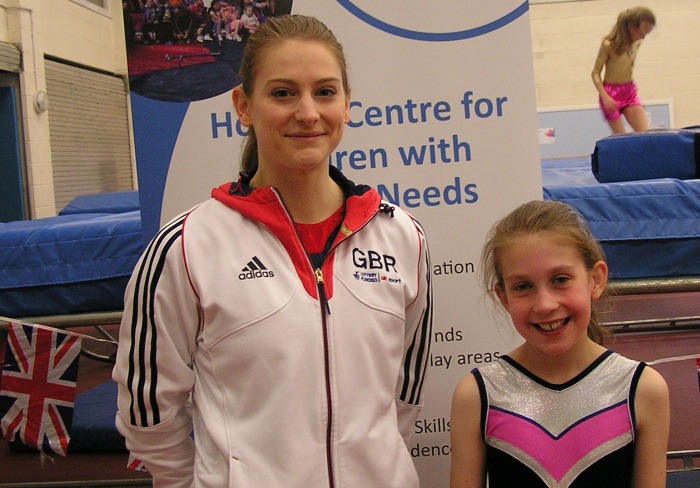 Staff at the Wingate Centre near Nantwich are bouncing with pride after home girl Bryony Page scooped Olympic trampolining silver.
Page began her career at the centre in Wrenbury, where her family still live, starting as a gymnast before turning to the trampoline.
And the 25-year-old recently returned to her roots to help the centre stage a fund-raising 'bounce-a-thon' so it can continue to offer sport and leisure opportunities for disabled youngsters.
Now her success in Rio is sparking even more interest from children in the area keen to try their hand at the trampoline.
Page, who is also British and European Women's Team Champion, was overcome with emotion when she completed her final routine and discovered she was a silver medallist.
The Wingate Centre is where it all began for Bryony when she was still at primary school.
Centre manager Rona Moroney said: "We are all immensely proud of Bryony and what she has achieved.
"It's a long journey from those first lessons here at just infant age!
"Having had the pleasure of meeting Bryony on several occasions this year it's hard to believe someone so down to earth and humble was heading to Rio to win a silver medal.
"Both able bodied and disability gymnastics are growing in popularity and we are already seeing more enquiries for our classes.
"So I'm sure Bryony will have inspired a new generation of budding gymnasts eager to take up trampolining!"
The Wingate Centre provides residential holidays and sports and recreational activities for children and young adults with disabilities.
With an emphasis on inclusive sport, it organised an inclusive Bounce-a-thon earlier this year, which Bryony attended to help support the fundraising efforts and to meet aspiring gymnasts.
"The Wingate Centre is where my trampolining career began, it's an amazing facility that will always be close to my heart!" she said at the time.
"The coaches and the centre staff have been a great inspiration to me as I have seen first-hand the support they offer for both able bodied and disabled children who want to take part in sports.
"I will always do whatever I can to help support the Centre's incredible work."
For more information about The Wingate Centre or to arrange a visit, contact Katie Heirene on [email protected]
See a video of Bryony interviewed at the Wingate Centre before Rio, below: