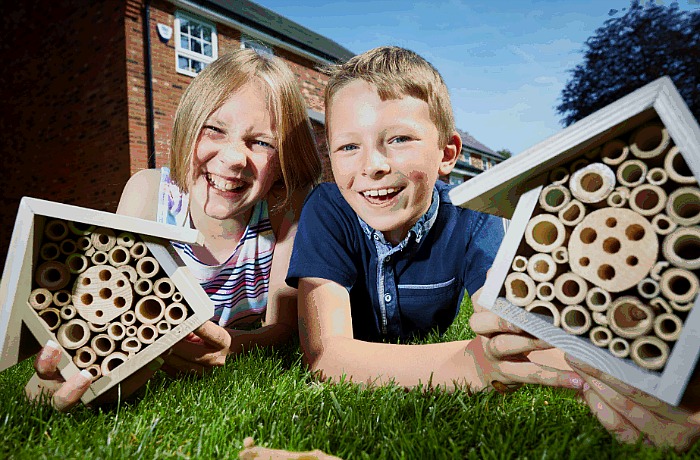 Youngsters in Stapeley have been helping boost the area's bee population under a new scheme.
Children on the new Stapeley Gardens estate off London Road have been helping ensure showhome gardens support the threatened species.
They've been planting bee-friendly plants, installing flower planters, tubs, hanging baskets and window boxes to give bees plenty of plants to pollinate.
David Wilson Homes has worked with landscape gardeners to design bee-friendly gardens, and is also supporting the British Beekeepers Association.
Numbers have declined in recent years, especially in the UK with its inclement weather.
Carol Ridgeway, at Nantwich's Stapeley Gardens, said: "From spring until early autumn, bees look for pollen and nectar-rich plants so the more flowering plants the better.
"They particularly like plants with simple open flowers, avoiding F1 Hybrids.
"The plants can be in borders, tubs, hanging baskets and even a window box can provide a rich source of food for bees."
Popular bee-friendly plants include Roses, Clematis, Geraniums, Cornflowers, Lavender, Buddleia, Wigelia, Fuschias, Poppies, Pansies, Fruit trees, British wild flowers.
Residents can attract bees by ensuring at least two plants are in flower from spring until late summer to provide food throughout the season.
Plant bee-friendly plants in sunny places rather than in the shade, look for plants at garden centres and nurseries which have either the BBKA 'Good for Honey Bees' or Royal Horticultural Society bee-friendly plant labels to help identify the best plants.
Provide bees with a source of water – a pond, water feature, bird bath or even a saucer will be appreciated by thirsty bees.
Never use pesticides on plants when they are in flower.