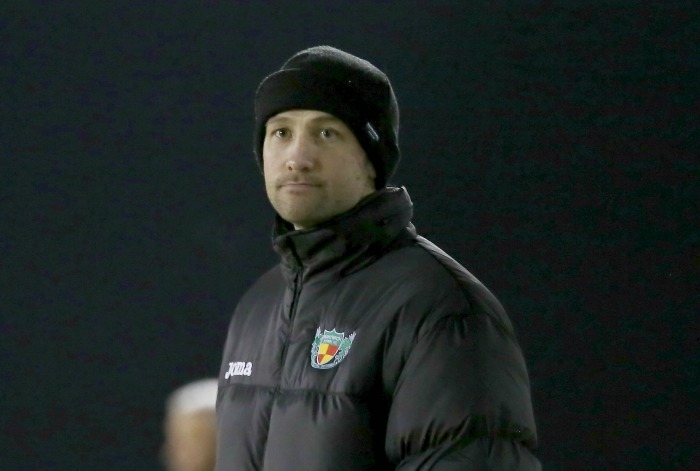 Nantwich Town boss Phil Parkinson was "over the moon" after watching his Dabbers triumph in their FA Cup replay at Marine.
Nantwich are through to the 3rd Qualifying Round after a battling 3-2 win last night (September 20).
And Parkinson acknowledged the Dabbers were perhaps not at their best in the game.
He said: "I'm made up with progressing.
"I'm absolutely over the moon with coming away to a team like Marine who are flying high in the league at the moment and getting a really hard fought victory.
"I thought the first goal was against the run of play with regards to our performance, but we've won and that's the important thing to go through to the next round."
Marine were the better team in the first 20 minutes, taking a 2-1 lead, before Nantwich settled to their task.
"We played some decent stuff, we opened them up really well at times and created some decent chances without being at our best," added Parkinson.
"Marine are a very good team and they are probably the reason we didn't get our own way.
"They got in our faces and made it difficult and they've got some really good players, they've got some lads who can really hurt you.
"They are going to be a good team this year and they are going to upset a few, so it was nice to be able to come here and get that win."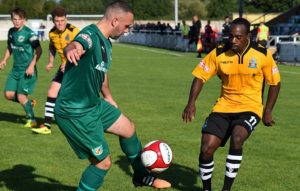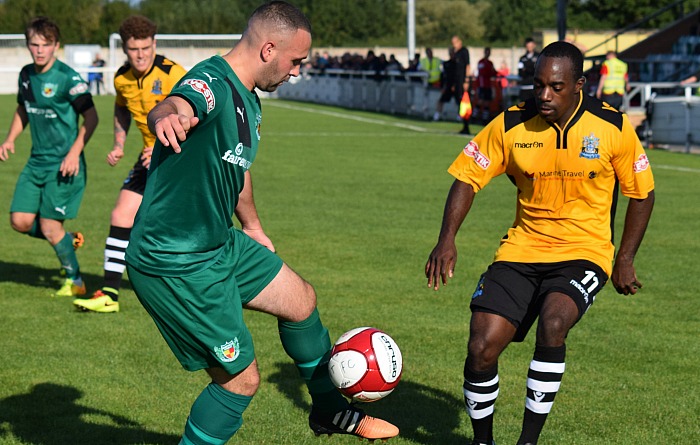 Striker Theo Stair (pictured, right) popped up to grab the all-important winner in the second half, netting his fifth goal in 10 games.
"Theo was in the right place at the right time.
"He's had a really good start to the season, he's a testament to what I'm all about with regards to giving lads a chance from a lower level.
"We like to think we can find a diamond in the rough and we'd like to think we found one in Theo.
"He's only going to be get better with training with better players and playing in games like this."
Parkinson praised his defence who stood up to intense pressure as Marine looked for a route back into the game in the last 30 minutes.
"Curt (Jones) and Ben (Harrison) did really well down the middle, with Sam Hall just in front of them.
"Matt Bell was outstanding in there with Sam.
"Defensively, they were superb and they had to be because they were under a lot of pressure.
"Dave Parton was just picking everything out of the air and was an absolute rock at the back when it was coming into the box.
"It's nice to have that presence in there, Dave has given us that.
"We are all about playing the right way and getting the results like that.
"But now and again you have to look at it and think they've come away from home in the FA Cup, to a real tough venue and it doesn't matter how you get the result sometimes, it's a good result."