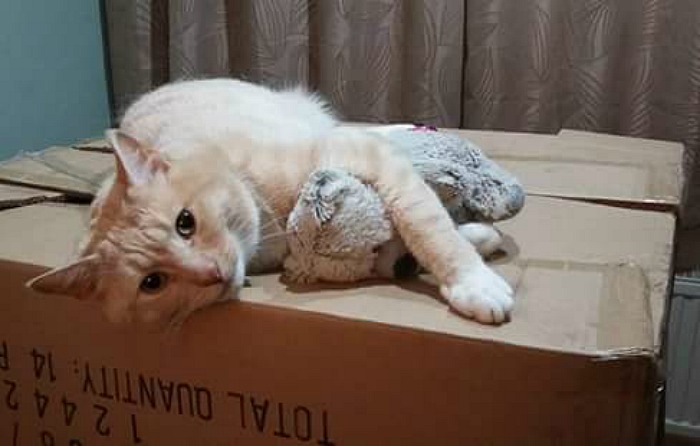 A distraught cat owner in Nantwich issued a warning to others after her beloved moggy was poisoned by anti-freeze.
Sarah Welfare's male cat Fonzie was rushed to vets who battled for two days to save him after he ingested anti-freeze in the Station View area of Nantwich.
But Sarah was forced to put the five-year-old Fonzie (pictured) down on Monday.
The case is now being investigated by the RSPCA to see if it was a deliberate act.
Heartbroken Sarah, of Cronkinson Avenue, Nantwich, said: "I am very sorry to say that we had to say goodbye to him yesterday.
"Please be very careful if using anti-freeze to ensure none is spilt and it is stored safely.
"I would like to hope this was an unfortunate accident but just in case it wasn't an accident, please be very vigilant if your cat goes outdoors.
"Fonzie will be greatly missed and we will of course now have to take care of the costs incurred in trying to save him as well as dealing with my other cat dreadfully missing his friend.
"I would hate for anyone else and their cat to go through what we did."
Sarah took in Fonzie and his sister as kittens back in May 2011.
"His mum was a stray that a friend of mine in Wales took in and reared the five kittens before finding them all homes," she added.
"Fonzie's sister sadly disappeared when I was living in Rode Heath two and half years ago.
"And Fonz hated being an only cat so I then took in an unwanted kitten called Bandit who made a great friend for Fonz and is now missing him like mad.
"Bandit is unharmed but desperate to go out but I don't dare let him after what's happened to Fonzie."
Sarah has set up a Justgiving page to try and raise money to foot the £611 vets bill she is now facing.
"I'm usually really against them, but if anyone is able to assist in any small way then I'd be extremely grateful," she added.