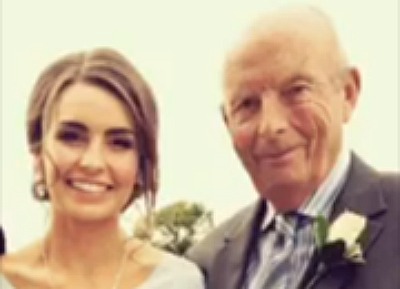 A family from Nantwich are attending a private London screening of Disney movie 'Moana' after winning a national competition.
Emily Rossiter, 22, from Nantwich, entered a social media competition asking people to submit tales of how grandparents in the family have inspired them.
In the new Disney movie "Moana", which opened in UK cinemas on December 2, main character Moana is inspired by her grandmother's stories.
Moana is encouraged to leave the safety and security of her island for a daring journey to save her people.
Emily's entry to the competition celebrated her relationship with her grandfather, Anthony (pictured together).
She said: "At a very young age, my mother and I moved back into my grandparent's home and I became incredibly close to my grandfather.
"I have so many wonderful memories of growing up – sharing his cup of 'char' in my beaker, jumping off the school bus to see him waiting for me and having a natter over a vanilla slice.
"I have just started the second year of a teaching degree at university, a position I wouldn't have been in if it wasn't for the support and guidance of my grandfather.
"If you don't believe in heroes, then you haven't met my grandfather.
"He may have silver on his head, but he has gold in his heart!"
Emily is taking partner Alexander Nield, 22, brother Thomas Dawson, 14, sister Beatrice Dawson, 4, and cousin Olivia Goodwin, 8, to a VIP screening at The Mondrian in London today (December 4).
"There were so many lovely entries that we couldn't believe it when we won," Emily added.
The "Moana" campaign marks sponsor MBNA's first partnership with Disney.
James Poole, of MBNA, said: "We were overwhelmed by the incredible stories that families across the country shared with us in this competition.
"Selecting just four winners was a real challenge, but we certainly feel that Emily's entry was an inspirational and fitting winner."
Anna Hill, of The Walt Disney Company UK & Ireland, added: "We would like to congratulate all of the winners and hope that they have a wonderful time."