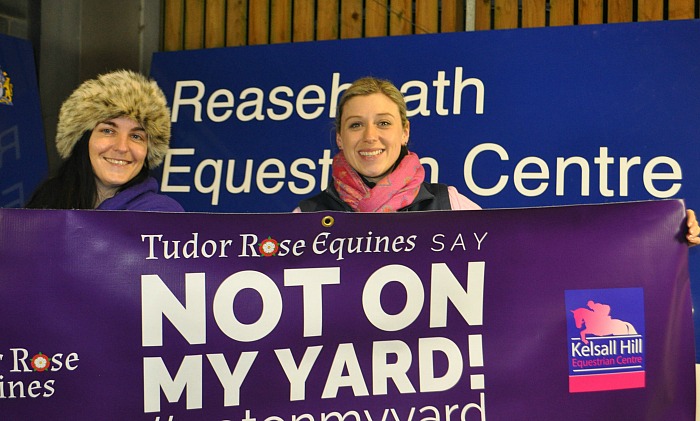 Reaseheath College equine team backed an anti-bullying campaign by hosting a free event at their Nantwich base.
The event was in support of #NotOnMyYard campaign – an equine-specific anti-bullying initiative launched by Tudor Rose Equines.
International event rider Michael Owen, British Dressage judge and trainer Val Smyth and Olympic show jumper Geoff Billington gave demonstrations at 'grass roots' level.
Other attractions included a "selfie booth" and the chance to try out 'Flicka' – Reaseheath's mechanical horse.
A raffle was held to raise funds for the #NotOnMyYard initiative with prizes donated by local businesses.
Val Smyth said: "Bullying is an important issue that needs to be addressed in any walk of life, but especially in the horse world.
"Although ours is a competitive sport, we all deserve to enjoy being with our horses and that's why I support this campaign wholeheartedly."
British Horse Society (BHS) and Greater Manchester Police Tactical Mounted Unit also attended.
Reaseheath's senior wellbeing co-ordinator Nicola McCleave said: "We take a holistic approach to student wellbeing and cover a wide range of issues.
"The #NotOnMyYard message is one very close to our hearts as Reaseheath has a zero-tolerance policy to bullying."
Samantha Thurlow, from Tudor Rose Equines, said the next phase of the campaign will be to draw up a Code of Conduct for yards, schools and centres.
She said: "Reaseheath is leading the way in this campaign.
"Since our launch we have been approached by other colleges and equestrian venues who want to get involved.
"Thank you to everyone who has supported us so far."
(pic, top: Samantha Thurlow, left, and Sam Brentnall during anti-bullying event held at Reaseheath College)