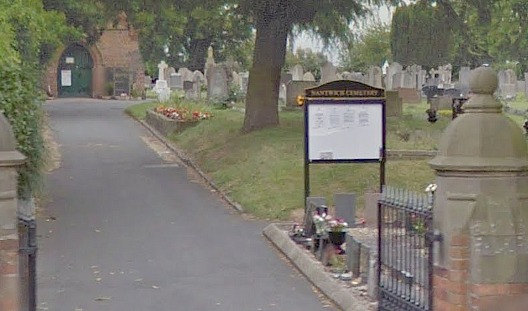 Grieving Nantwich families are being warned after graveside thieves targeted the town's Whitehouse Lane cemetery.
A vase and flowers were stolen from the grave of one woman's stepdad, leaving her mum devastated.
And just days earlier they had to comfort an elderly mourner at the cemetery where he said his late wife's grave had flowers and vases taken.
The Nantwich woman who's stepdad's grave was targeted, told Nantwichnews: "My family and mum are very upset.
"Last week, I also saw an old man crying who said someone had taken his wife's display and was so upset, we had spare flowers but he didn't want any.
"I just think it's awful.
"They've even taken our vase. I just dread to think how bad it'll get with Christmas displays.
"It hasn't been reported yet, my mum doesn't want to she's so upset. I just wanted to warn people.
"I very much doubt there's anything that can be done as it's a busy cemetery as it is and there's plenty of dog walkers who also cut through."
She said a black vase and pink roses were taken from her stepdad's grave between last Friday (December 2) and yesterday morning (December 6).
"I feel so sorry for that old gentleman I met and imagined it was a one-off," she added.
"But now it's happened to our grave I can only imagine it's happened to many.
"My stepdad's grave is at top end where they're still filling up.
"But the elderly man last week, his was right in centre nearer to front entrance."
A spokesman for Nantwich Police urged anyone who has been a victim of thefts at the cemetery to come forward.
"Despite the reports, we are not aware of any specific allegations of theft being made to Police in relation to the Whitehouse Lane cemetery.
"We would ask anyone who has any information in relation to these incidents to contact Cheshire Police via 101.
"This type of offence is deeply distressing to all affected and will certainly not be tolerated.
"We will ask that local officers increase high visibility patrols in the area and should anyone be caught tampering with anything left on or around graves they will be brought to justice."