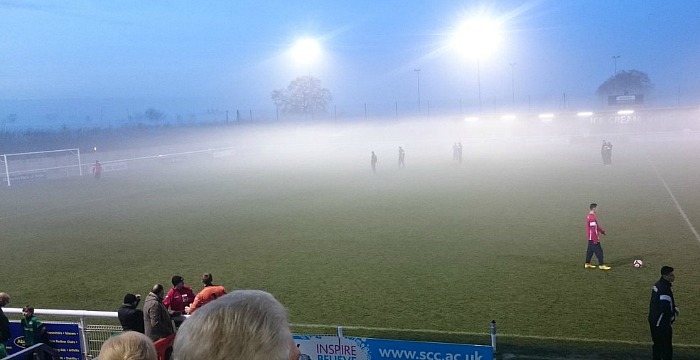 Nantwich Town and Frickley Athletic will play again after their game was abandoned because of fog just four minutes into the second half.
Thick fog swept across the pitch making it almost impossible for players to see each other.
The match officials took several minutes to inspect the conditions but abandoned the game when the conditions did not improve.
The sides were level at 0-0 at that point after a fairly uninspiring encounter on a day that children were allowed in for free to Weaver Stadium.
Nantwich, fresh from their 4-0 win over Skelmersdale in midweek, began brightly and despite creating little in terms of early openings, had most of the possession early on.
They had to wait until the 26th minute before Ryan Brooke turned smartly, only to fire over from the edge of the box.
Frickley began to grow into the game and their first shot from long distance, flew wide of Parton's left-hand post.
The second-half began with a dramatic change in weather.
The fog very much made itself welcome and viewing became increasingly challenging for
spectators.
Despite the weather, Nantwich started the second-half in determined fashion.
A combination of Theo Stair and Brooke caused panic in the Frickley back-line before Touray went close.
Referee Dean Watson then halted play to consult with both managers about the worsening weather, before the decision was made.
"It was an anti-climax," said a frustrated Nantwich boss Phil Parkinson.
"We faced a team who parked the bus.
"It was their game plan and they have every right to play like that.
"We had to be brighter when we could.
"The referee was right to call the game off when he did, but we'll count ourselves slightly more disappointed because we were in the ascendancy.
"Your heart says play, your head asks whether it's right, but I feel it was the right decision."
The Dabbers will be in action on Tuesday night as they face Lincoln in the FA Trophy.
Nantwich Town: Parton, White, Touray, C Jones, J Stair, Hall (C), Mwasile, Bell, Brooke, Riley, T Stair. Subs: Finney, Walker, Sanders, Abadaki, S Jones.
(pic courtesy of Nantwich Town FC)