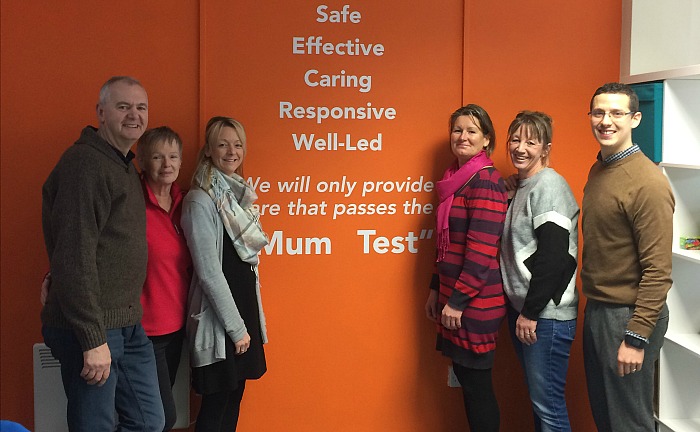 Home care company Right at Home is to stage an event in Nantwich to highlight key services for elderly and disabled people.
The organisation has teamed up with South Cheshire firms such as Ableworld, Wulvern Housing, Hibberts Solicitors, RightMinds therapy, and St James' Place Wealth Management.
The "Home Care Mythbuster" event is being held in Methodist Church, on Hospital Street, on
March 13, 2-4pm.
Right at Home South Cheshire managing director Ben Selby said: "The event was originally going to be a small affair with just myself offering advice and guidance on navigating through the social care system, which can often be quite overwhelming.
"We wanted to help people to understand what support is available on a local level and how to access it.
"Additionally, I felt Home Care has received a particularly hard time from the media over the last couple of years.
"This event will hopefully help people realise there are great companies out there who employ wonderful people who support and care for people on a daily basis, allowing them to enjoy a great quality of life at home – We are one of those companies.
"Time is so important when supporting a person.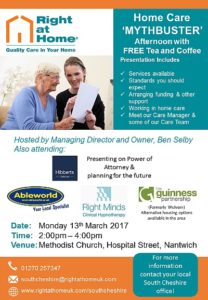 "Outstanding care is about supporting a person with not just their practical and personal care needs, but also their social needs.
"Longer visits allow a relationship to build between CareGiver and Client, which ultimately results in some fantastic outcomes for our Clients and an improved quality of life."
The March 13 event will include presentations by Mr Selby, and a representative from Hibberts solicitors.
There will be stalls where visitors can then speak with businesses attending.
Free refreshments including tea, coffee and biscuits will also be available.