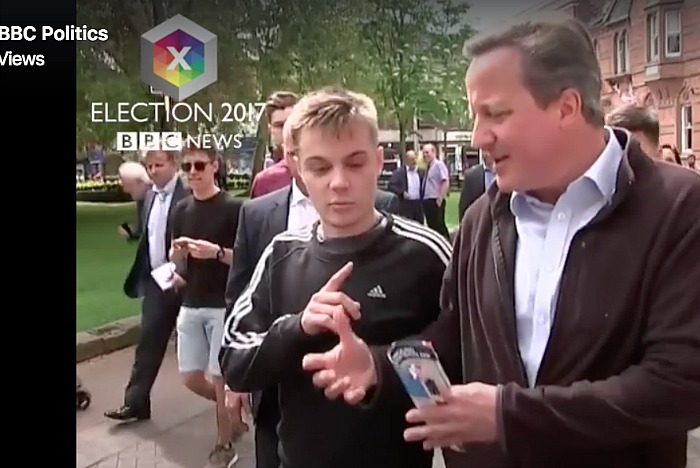 A young Nantwich student has become an internet sensation overnight after a BBC video of him grilling former Prime Minister David Cameron went viral.
Max Parry was filmed questioning Mr Cameron who was visiting Nantwich to support Conservative candidate Edward Timpson's election campaign.
While Mr Cameron strolled around the town square, Max approached and begin quizzing the ex PM on Brexit.
The video, by BBC Politics, was shared across social media platforms and has now been viewed a staggering 1.1 million times.
And more than 350 comments have been added below the video on BBC Politics Facebook page, many praising Max for being bold enough to confront him.
Max, 18, a student at Brine Leas, told Nantwichnews: "I just thought you don't get the opportunity to talk to such figures very often so I wanted to take my chance.
"It's rare that this happens in modern day politics so it felt right to approach and ask him questions."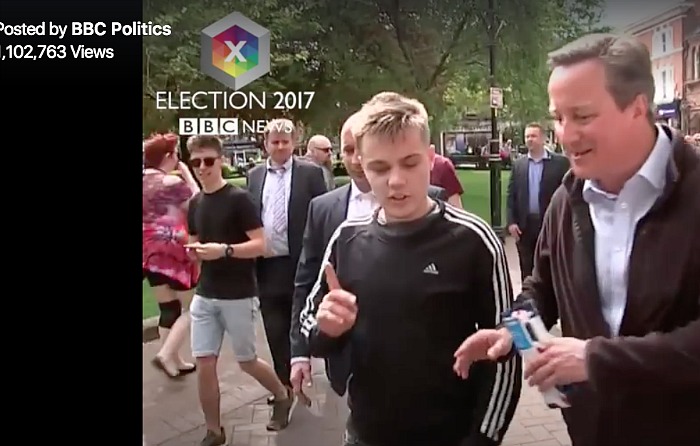 Max, from Audlem, is hoping to go to Liverpool University in September to study Politics.
"Yes, politics is what I will be looking to pursue a career in," Max added.
Mr Timpson is competing for the Crewe & Nantwich seat on June 8 against Labour's Laura Smith, David Crowther of Liberal Democrats and Michael Stanley of UK Independence Party.
(Main images, above, courtesy BBC Politics. Pic, below, from reader Edward Leetham)