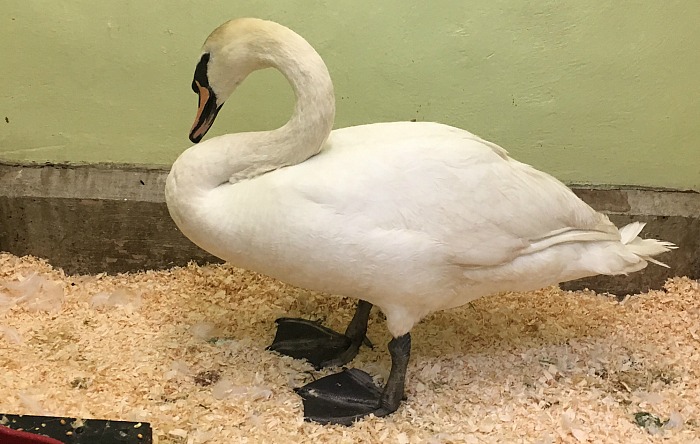 The RSPCA is urging residents to look out for local wildlife after a swan was taken to Stapeley Grange wildlife centre in Nantwich with multiple injuries – on the same day seven of her cygnets went missing.
The swan, nicknamed Mabel, is a known character on the River Weaver in nearby Northwich, along with her mate Albert and their nine cygnets.
The RSPCA was contacted after a member of the public became concerned about Mabel's behaviour.
She was taken by an inspector to Stapeley Grange Wildlife Centre where it was found she had been shot and possibly attacked by another animal.
Lee Stewart, manager of Stapeley Grange, said: "When we able to have a proper look at her she was found to have injuries consistent with having been attacked by another animal.
"She had also been shot, had mites and had high lead levels in her blood – she was very poorly.
"She is now on antibiotics and is slowly improving.
"The main thing is she is bright, feeding well and is maintaining her weight, so hopefully she
will be moved outside soon.
"The team are keen to return her to the wild as quickly as possible, back with her mate and their cygnets."
Wildlife can get lead poisoning from littered fishing tackle, such as split lead shot which have been left behind by anglers.
"This is a good example of how dangerous fishing litter is for wildlife," said Lee.
"Also, the swan appeared to have injuries consistent with being attacked by another animal.
"We can't say for sure whether this was caused by a dog or a fox, but we'd like to remind people to have their dog under control when they are near wildlife.
"It is difficult to say when she shot, however it is distressing to think some people take pleasure in causing harm to these beautiful and defenceless birds.
"These are deliberate acts of cruelty and we would appeal to people's consciences not to commit these offences."
Under the Wildlife and Countryside Act 1981 it is illegal to take, injure or kill wild birds or interfere with their nest or eggs, unless under licence.
The maximum penalty, if found guilty, is six months in prison and a £5,000 fine.
Anyone concerned about wildlife in the local area should contact the RSPCA's 24-hour cruelty line on 0300 1234 999.