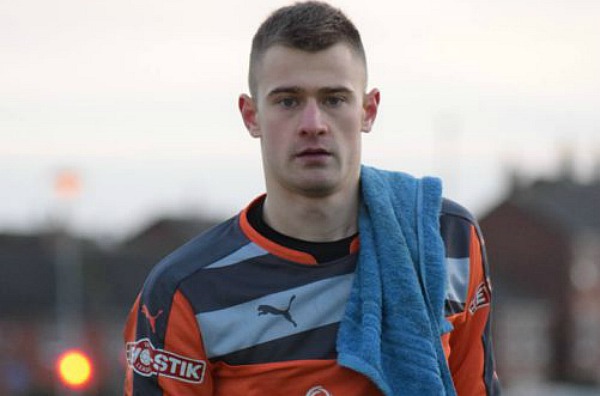 Nantwich Town have re-signed two key players, in goalkeeper Krystian Burzynski and defender Joel Stair.
Manager Dave Cooke believes Burzynski (pictured) and Stair will help the Dabbers form a key defensive unit as the 2017-18 season draws nearer.
The news will hearten Nantwich fans as Cooke's squad begins to take shape and fill the gaps left by a number of high-profile departures.
As well as new striker Harry Clayton from Kidsgrove Athletic, they have landed fellow ex-Crewe Alex player Toby Mullarkey from Leek Town.
Mullarkey is a central defender who has played on loan for Witton Albion, and the 21-year-old impressed for Leek last season as they reached the play-off final.
Cooke said: "Toby is another one I'm pleased with.
"I watched him during his time at Crewe, and I know Nantwich thought about him last season.
"But this is the right time for him to come in, he's still only 21 so he's got bags of time."
Another new signing is former Notts County keeper Fabian Spiess, who has joined the Dabbers from Alfreton Town.
German-born Speiss, 23, made 13 appearances for Notts County and has also played for Bristol Rovers, Torquay United and Boston United.
"Fabian has got experience in the Football League so I'm pleased to have got him," added Cooke.
"And we've also got Krystian Burzynski coming back so we've got good competition for the keeper's shirt."
The squad returns to full pre-season training next week, with further additions likely
Meanwhile, more than 40 local young players attended the first under 17/18s session held on Nantwich Town's 3G pitch at the Weaver Stadium last night (June 21).
U17s manager Lyndon Wain said: "I'm really delighted with both the numbers and quality of those who attended.
"It goes to show that Nantwich Town is a desired location for talented young local footballers to come to.
"We are continuing the process over the next few weeks so the opportunity is still very much there to those who weren't able to attend last night.
"It was great for the boys to see Dave Cooke at the event as that pathway to the first team is what our club is all about."
Anyone interested in trials, contact Lyndon Wain on [email protected] or 0747114039.
(pic courtesy of www.nantwichtownfc.co.uk)