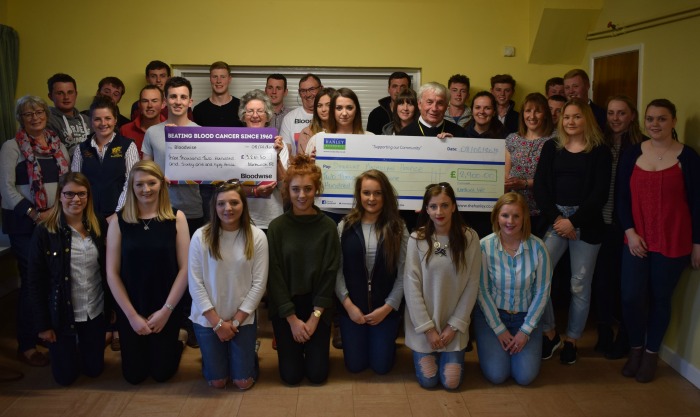 A play by Nantwich Young Farmers Club at Acton Parish Hall has helped raise more than £6,000 for local causes.
The 'Dick Whittington' production has benefited charities including Bloodwise  and the Douglas Macmillan Hospice.
A cheque for £3,261.50 was presented to Mike and Liz Boffey from local Bloodwise branch in Wisatston.
And a cheque for £2,900 was presented to Dennis Vickers, from the Douglas Macmillan Hospice, prior to the Nantwich Young Farmers' Club's annual general meeting in Acton.
Jonty Cliffe, Chairman of Nantwich Young Farmers Club, said: "Nantwich Young Farmers take great pride in raising money for charity on a yearly basis and this year was no different.
"As Chairman of the club, I am very proud of everyone for this fantastic achievement."
Liz Boffey, from Bloodwise (South Cheshire), said: "Bloodwise South Cheshire are indebted to Nantwich Young Farmers' Club for the magnificent sum of £3,261.50.
"It is heartening to hear of young people actively doing good in this way.
"There are 137 different types of blood cancer and all money raised goes directly into research of cures and treatment of blood cancer.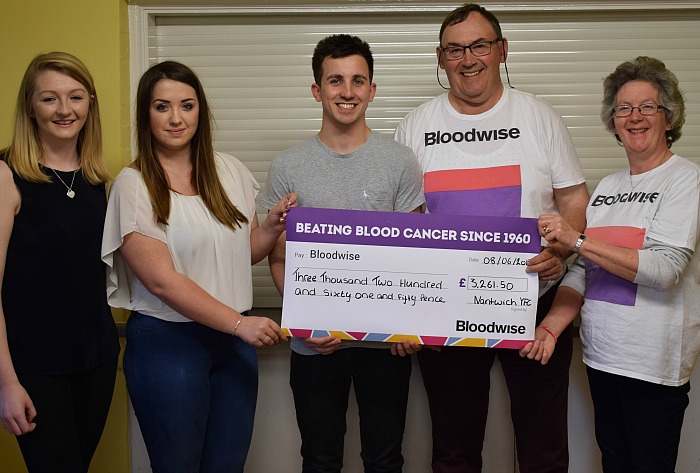 "Past research has resulted in the transformation of survival rates for children with acute lymphoblastic leukaemia.
"When Bloodwise was founded, in 1960, survival was measured in weeks and months, but today nine in 10 children survive.
"15 years ago, chronic myeloid leukaemia patients would need harsh chemotherapy plus a stem cell transplant just to survive.
"Now they take a daily pill to live near normal lives.
"Blood cancer is the UK's fifth most common cancer and the most common cancer in children and young people, so it is particularly appropriate that young people have supported us in this way.
"We got involved with Bloodwise 10 years ago following the loss of our son to acute myeloid leukaemia.
"We remain determined to continue fund raising to give hope to future patients.
"As the local branch of Bloodwise, we are based in South Cheshire but cover parts of Shropshire, Staffordshire as well.
"We are always keen to hear from anyone who'd like to support us in any way.
"Thanks to wonderful support from Nantwich Young Farmers Club, we remain committed and will continue to enjoy their excellent pantomimes!"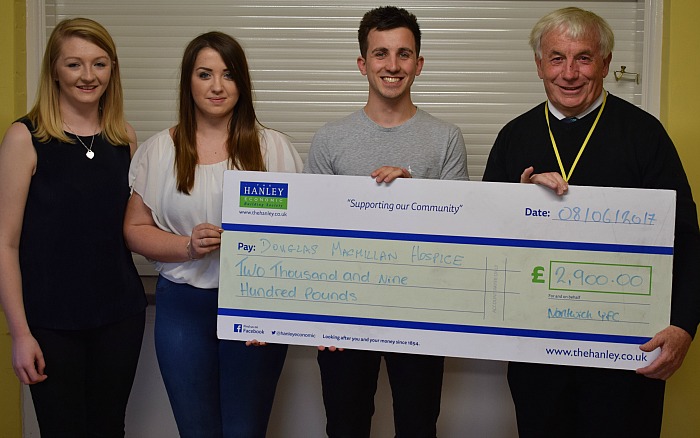 Dennis Vickers, from the Douglas Macmillan Hospice, said: "During the last year, 3,000 persons with life-limiting illnesses have been under the care of the hospice. It costs about £1 million a month to run it.
"It was a joy to meet the Young Farmers because all too often we forget that young people are as generous and thoughtful as others.
"The fabulous sum of £2,900 will help the work of the hospice and will be put to work immediately."
(pics and words by Jonathan White)