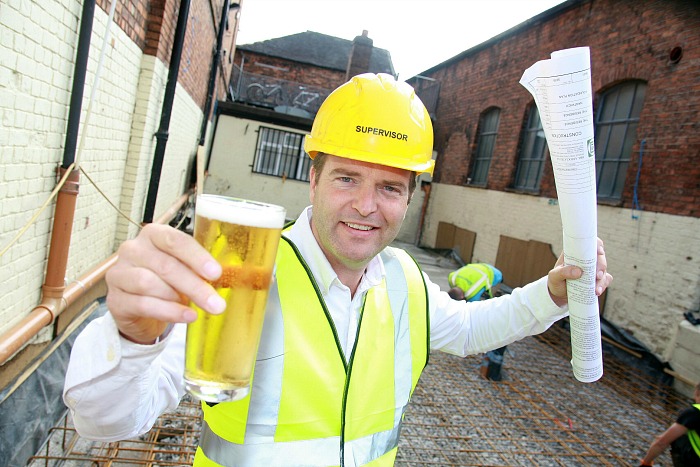 Major works are underway to double the capacity of one of Nantwich's popular dining destinations.
Residence Restaurant and Bar is undergoing a £350,000 scheme to transform an outdoor courtyard into a new attraction.
The 1000 sq ft single storey-structure, with partially glazed pitch roof, will offer a new cocktail bar and theatre kitchen with wood-fired sourdough pizza oven.
Foundations have been laid and works are progressing well ahead of a September opening.
The scheme includes a refurbishment of the existing restaurant led by designers behind some of Cheshire's most trendy venues, including The Botanist in Knutsford and Alchemist in Alderley Edge.
A giant marquee, sited on Residence car-park, will offer pop-up dining, socialising and function facilities over the first three weekends in September while work progresses.
During Nantwich Food Festival September 1-3, the marquee will host activities including the National Chilli-Making contest and free gin and cocktail-making masterclasses with guest bartenders from The Ginstitute on Portobello Road, London.
Residence owner Ben Rafferty (pictured) believes the new cutting-edge attraction will offer a "wow factor".
He said: "We're currently working to a capacity of 62 covers in the restaurant and increasing the size of the ground floor by utilising the outdoor area will allow us to double that and create new jobs.
"Inside we're aiming for a 'home from home' experience befitting the mansion's past but with some really modern twists which will create a venue that people from miles around will want to visit.
"There will be the same focus on quality food and customer service but in fantastic new surroundings which will become a talking point putting Nantwich on the map as a five-star culinary destination."
Residence has employed more than 350 people since opening as a restaurant in 2007.
Mr Rafferty added: "Residence has been part of the community for a decade and now it's time to give our food customers and all the people who book their parties and weddings with us a new experience.
"We like to create happy memories and have invested heavily in giving Nantwich a new attraction."
The scale of the scheme, which includes £50,000 spent on soft furnishings alone and thousands more on mood lighting, will be unveiled at a VIP opening night marking Residence's 10th anniversary.
The new-look venue will be officially opened to the public on September 22.
Meanwhile, Residence remains open for bookings and walk-in trade.
Anyone interested in applying for the new jobs should call Residence on 01270 629100 or visit www.residence.uk.com