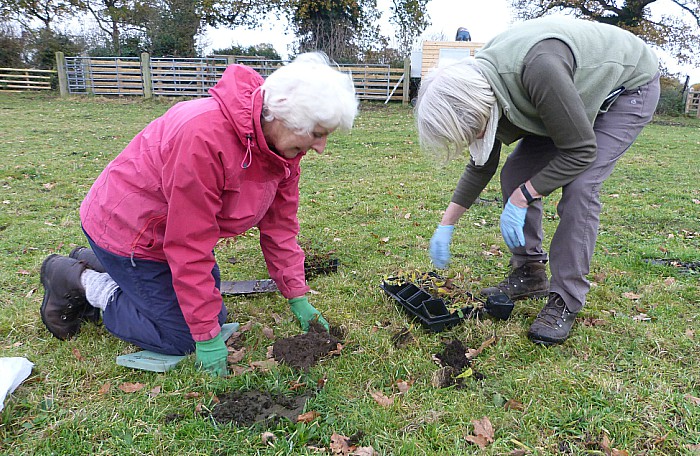 Cheshire Wildlife Trust has created a network of new meadows as part of its 'Save Our Marvellous Meadows Appeal'.
Almost £12,000 has been raised which will help the trust continue its campaign to restore 100 hectares of species-rich grassland in Cheshire in the next 10 years.
Supporters were invited to a special plug planting event at the trust's Swettenham Meadows Nature Reserve.
Cheshire has lost 99% of its meadows over the last 60 years through changes in farming practices and a lack of awareness around the importance of grasslands.
Martin Varley, director of conservation at Cheshire Wildlife Trust, said: "Many grassland specialist pollinators such as bees, butterflies, hoverflies and moths are in rapid decline, due to this loss in our region's landscape.
"Insect-feeding small mammals and birds such as the yellow wagtail, lapwing and skylark have all also been impacted by the losses."
In 2017, the trust restored eight hectares of meadows and its campaign attracted interest across the region with many other sites being put forward.
Cheesemakers, Godfrey C Williams & Son created a honey-flavoured Cheshire cheese using locally sourced honey from Haughton Honey, near Nantwich.
This was sold in their shop across the summer and raised more than £100.
Haughton Honey also provided honey for Backford Belles to create a honey ice cream in support of the appeal.
Cheshire jewellery designer/maker Angela Kennedy also designed a limited edition sterling silver oxeye daisy pendant which is sold through her website at www.arkcontemporarydesigns.co.uk
Jo Darlington, director of fundraising and communications, said: "We have received fantastic support, not just through our supporters' generous donations and our wonderful volunteers who have given their time, but also through the support of organisations in the county.
"We'd like to thank everyone who has got involved.
"We know how important meadows and pollinators are to people and these funds will enable us to continue our important restoration work."
Two years ago, the trust started a project to restore habitats at its Swettenham Meadows Nature Reserve, with support from the national Coronation Meadows scheme.
In 2017, the Trust harvested seed and used it to create new ones at its Bickley Hall Farm headquarters, between Nantwich and Malpas, and its Swettenham Meadows Nature Reserve.
"We are creating a network of habitats for pollinators to flourish," added Mr Varley.
"We've also developed a dedicated area at Bickley Hall Farm where we can continue to grow wildflower plug plants each year to plant at new sites.
"People have been involved at all ages too, from children attending our summer school through to landowners suggesting sites where meadows can be created."
To support Cheshire Wildlife Trust's 'Save Our Marvellous Meadows Appeal' visit www.cheshirewildlifetrust.org.uk/meadowsappeal