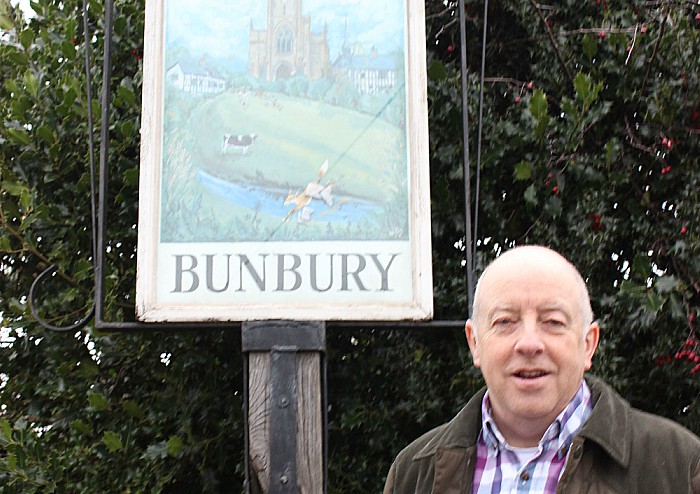 Cllr Mark Ireland-Jones has been selected by the Liberal Democrats to stand in the forthcoming Cheshire East by-election seat of Bunbury.
The by-election was called after former Cheshire East Council Leader Michael Jones announced he was quitting as councillor in December.
Mr Jones resigned as Council Leader back in 2015 after accusing party members of orchestrating a campaign against him.
Cllr Ireland-Jones, 56, has been a Parish Councillor on Bunbury Parish Council since July 2016.
He is a supporter of the campaign to re-open the local Beeston and Tarporley railway station, which he says would bring benefits to local residents, commuters and businesses and provide significant economic and social advantages to Bunbury.
Previous voluntary work includes 10 years as secretary of Wirral Farmers' Market, the winner of the BBC Food and Farming Award for Best Farmers' Market in 2007.
He graduated in 1982 with a degree in Electrical and Electronic Engineering and worked in the high tech semiconductor business for 20 years before setting up his own Digital Marketing Consultancy.
"Having only recently become active in local politics, I believe that my 30+ years business experience will be invaluable in representing the residents of Bunbury," he said.
"Cheshire East is one of the wealthiest councils and it desperately needs proper management to deliver the best value services.
"Our recent survey of voters in the Ward highlighted planning as a major issue and I believe establishing Neighbourhood Plans – a Liberal Democratic initiative in government – is the first step to giving residents a say in the development of their communities and I will be looking to ensure the whole Ward has these in place."
He says roads and pavements will also be on his priority list, and will be pushing for contracts to be awarded locally, particularly in farming.
Rod Fletcher, Leader of the Liberal Democrat group on Cheshire East Council, said: "The recent report into the culture of Cheshire East confirms that – despite many warnings – Cheshire East Tories have allowed many deep-seated culture failures to continue since the council was formed in 2009.
"The council's finances have been badly mismanaged resulting in a recommendation of a massive 5.99% increase in Council Tax alongside yet more cuts in services following a service budget overspend of £9.3m in the current year.
"The Tories have shown they are incapable of running Cheshire East. With huge challenges ahead Cheshire East residents desperately need more Liberal Democrat councillors to hold the Tories to account and show them how to run a council properly."
Other parties are yet to announce their candidates for the election scheduled to be held on March 22.