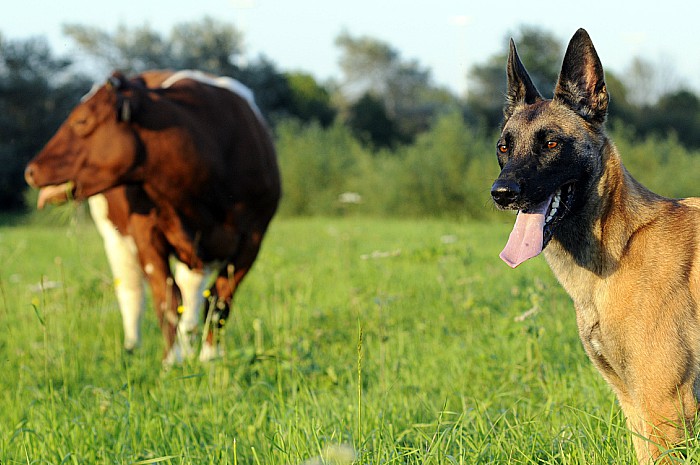 Police, countryside rangers and council teams are targeting irresponsible dog owners to cut the number of attacks on livestock in South Cheshire.
A new 'Get a Grip' campaign has been launched to ensure pets do not harm farm animals and nesting birds.
Dogs worrying and attacking livestock is a serious problem, with a rise seen during spring lambing season and nesting time.
Mark Palethorpe, Cheshire East Council executive director of people, said: "Dog owners have a duty to be responsible, considerate and obey the law regarding their pets.
"It is a criminal offence for an owner or person in charge of a dog to allow it to worry livestock.
"The majority of pet owners are responsible – but all should be aware that, as a last resort, a landowner or someone acting on their behalf, has the legal right to shoot a dog to protect their property, under the Animals Act 1971.
"Please keep your dog on a lead, where livestock is grazing or there could be a threat to ground-nesting birds.
"Any dog, regardless of breed, has the potential to chase and worry livestock. Do not let it be your dog."
If you allow a dog to worry livestock you may be prosecuted or fined and ordered to pay compensation.
Cheshire East Council animal health and welfare team, Cheshire Police and the countryside rangers have drawn up a checklist of dos and don'ts.
For dog owners:
● Your dog should never be unaccompanied outside of your home. Many incidents of worrying and attacks occur when owners are not present
● You have a legal responsibility to ensure your dog is secure and cannot escape and cause problems
● Consider using alternative routes away from livestock, where possible
● Keep your dog on a lead in enclosures containing livestock (walkers are advised to release their dogs however if threatened by cattle, so that they can get to safety separately)
● Pick up after your dog and dispose of faeces in a bin or take it home for disposal. Dog faeces contain parasites harmful to sheep and cattle
For farmers:
● Display notices that advise dog walkers of livestock in fields and ask the public to keep livestock safe by keeping their dogs on leads
● Ensure notices are up to date and removed if not required
● Report all incidents of livestock worrying and attacks to the police by ringing 101
For more information on this issue visit www.gov.uk/control-dog-public