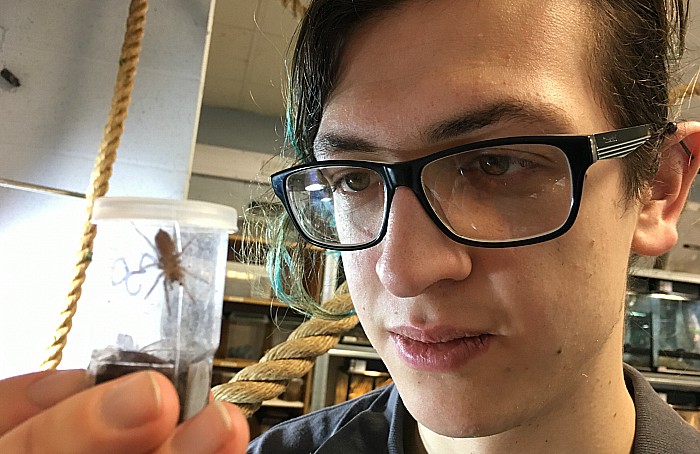 Reaseheath College's zoo in Nantwich is helping to conserve one of the world's rarest spiders.
Thirty tiny Desertas wolf spiderlings are being reared in the college's terrestrial invertebrate room in Nantwich.
It's part of a collaborative conservation programme led by Bristol Zoo Gardens and the International Union for the Conservation of Nature.
The critically endangered species is found in a single valley on Deserta Grande, one of the Desertas islands near Madeira.
There is now just one population of 4,000 adults left in the wild.
Habitat loss is their main threat and experts believe they will soon become extinct if steps are not taken to conserve them.
The spiderlings were bred in captivity from collected adult spiders at Bristol Zoo Gardens in what is believed to be a world first.
Reaseheath head keeper Lauren Lane is a respected entomologist, and Reaseheath was among a European-wide collection of zoos and research centres approached to assist the programme.
The spiderlings have joined the zoo collection for research and will not be returned to the wild.
Led by Lauren, a research team of students and keepers is being set up and their findings could lead to a greater understanding of the spiders' needs.
This will give later generations of spiders more chance of survival when they are reintroduced.
Although the spiderlings were just 4mm on hatching they will grow to impressive black and white adults measuring 12cm.
They are highly unusual because they actively hunt their prey rather than ambushing them.
There are plans to make the project into an educational display and to make the spiders available for sponsorship by visitors and students.
Lauren said: "It's a big coup for Reaseheath Zoo to be invited to join this vital conservation effort.
"It's exciting to think that our students' research will contribute to the conservation programme and a great opportunity for the public to see how we are rearing and caring for this rare species."
This is not the first time Reaseheath Zoo has been involved with spider conservation.
In 2016 it received a prestigious gold award from the British and Irish Association of Zoos and Aquariums (BIAZA) for its efforts to help conserve the endangered fen raft spider.
Find out more at www.reaseheath.ac.uk/zoo
(Pic: Jay Frankland, a Zoo Management undergraduate and member of Reaseheath's Herpetological and Entomological Society)