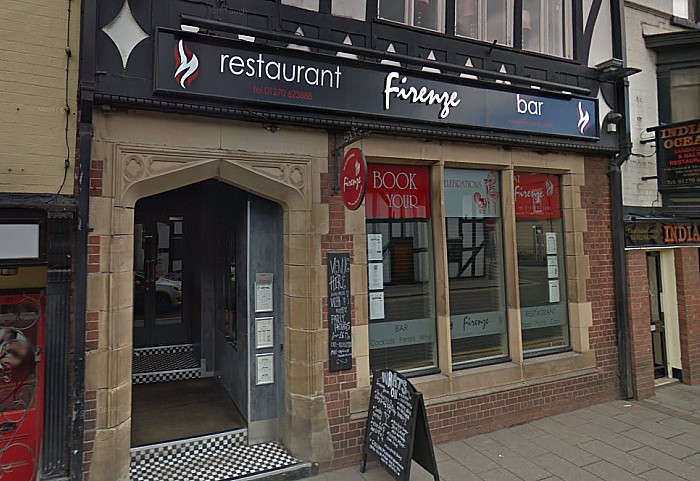 Italian restaurant Firenze in Nantwich is to undergo a refurbishment – and will no longer be an Italian!
Bosses of the Welsh Row venue are to close the restaurant for two weeks later this month to carry out the revamp.
And although it will retain its name, the restaurant will sport a new look and new menu when it re-opens at the start of May.
Restaurant director Louise Bastow told Nantwichnews: "This is a big change for us, we are no longer going to be an Italian restaurant!
"There will be new decor and the menu will reflect the complete new look of the place."
The venue will retain its current seating capacity of 80 upstairs and 40 downstairs.
And they will keep the impressive clay pizza oven – as well as a the name.
"We've been trading under that name for eight years now," Louise added.
"It's well established in the town and area, as much for the cocktails we offer as the food. So we have decided to keep the name."
The venue will be closed from Sunday April 15 for at least two weeks, with the hope all work will be complete for re-opening on or around April 30.
"We are going for a much softer look, a more casual tea-time dining feel as well as a retaining the friendly atmosphere," Louise added.
"We'll still be hosting lots of parties. Much of the work is cosmetic and joinery, no major structural work is needed.
"There will be a bit more usable space downstairs, offering better functionality."
Louise said they decided to change things after listening to customer feedback and noticing how dining habits have changed.
"Italian is quite niche, and generally it be perceived as heavy food, particularly for lunchtime.
"Customers want a broader offering, so we are changing our menu to reflect that.
"A lot of venues have pizza and pasta on their menues as well, and customers tell us they like more choice so we are opening up our offering."
Louise said the new menu will feature more sharing food, platters, and charcoal grill meats with more flavours.
It will also feature a new cocktail menu, being put together by the venue's general manager.
The company's nearby restaurants The Cat and Street on Welsh Row will remain open as normal during Firenze's closure.
(pic courtesy of Google Streetview)