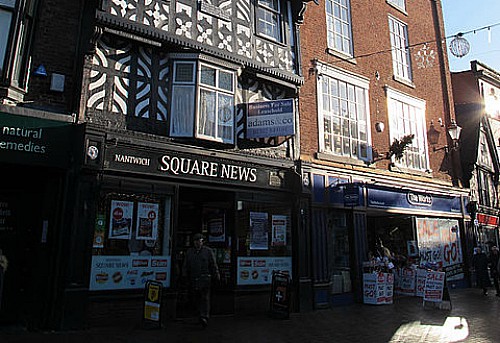 The owners of the Barrel and Tap in Nantwich are planning a new venture – a Gin Bar in Nantwich town centre.
Change of Use plans have been submitted to turn the former Nantwich Square News shop at 41 High Street into a specialist gin venue.
The outlet, currently unoccupied, is a Grade II Listed three-storey black & white timber framed Elizabethan building.
A change of use planning application has been submitted by Matt Dale, owner of Barrel and Tap, to Cheshire East Council.
The aim is to create a "small but niche establishment, with a relaxed, mature ambience featured around a variety of gins and tonics".
It would also serve as a 'juice bar' during the day.
In a report to the council, it says: "The proposal intends to offer a unique experience for clientele in Nantwich.
"The success of The Barrel and Tap, an establishment located in Nantwich also owned by the applicant, shares the same values, and is proving extremely popular with visitors giving it a 5 star rating."
The proposed plan includes an open plan seating area and corner bar with toilets and a cellar to the rear.
Signage will replicate the style and font used at the Barrel and Tap with a grey background and no illumination.
It plans to be open Sunday to Wednesday 9am to 11pm and Thursday to Saturday 9am to 12am.
This would also apply to Bank Holidays.
The report by Bower Edleston Architects says: "The inclusion of a premium drinking establishment in a prime location of Nantwich will benefit the local economy and evening economy for the town.
"The bar will also create two full-time and five part-time jobs, more than those provided from the previous occupancy.
"The sustainable location with local facilities and public transport links will not adversely affect the local highway networks.
"The success of the Barrel and Tap sets a precedent for the passion and commitment instilled in the applicant and business model to make these premised a landmark location in a building celebrating Nantwich vernacular."
Members of public can comment on the plans until April 18 via the www.cheshireeast.gov.uk planning portal.
(pic under creative commons licence by Stephen Craven)