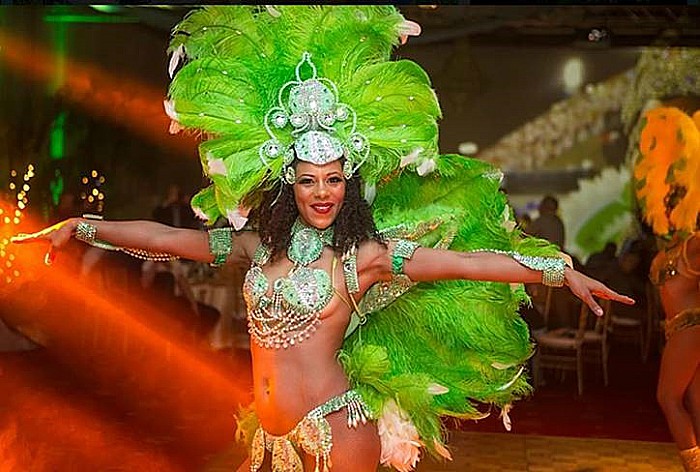 You can shake your tail feather when the magic of a Party Gras carnival comes to Nantwich in aid of St Luke's Hospice.
The Party Gras will be held in the historic estate of Dorfold Park on Friday July 27 as part of hospice's 30th anniversary celebrations.
The fundraising event is being organised by a committee of experienced and dedicated local people to raise money for St Luke's 30th anniversary.
Roger Mills MBE, Vice President of St Luke's and chairman of the Party Gras Committee, said: "Party Gras aims to bring the colour, flavour, sounds and excitement of the Brazilian carnival to Cheshire.
"With the picturesque backdrop of Dorfold Park, we hope it will be a night to remember.
"It will also be an opportunity to celebrate the care St Luke's Hospice has provided for the past 30 years, and help raise money to lay the foundations for the next 30 years."
The evening will begin with cocktails on the alfresco terrace at Dorfold Park.
The party will then move into a marquee where a four-course meal will be served by Horseradish, a catering team of 5* and Michelin experienced chefs.
Guests will then dance the night away with the award winning Toni James Band.
The fundraising event has been supported by local businesses including Mornflake Oats and Event Equipment Ltd.
Richard Jones, Mornflake marketing manager, said: "We are delighted to support what promises to be a fantastic evening for a wonderful cause in our community."
Richard Warriner, of Event Equipment Ltd, added: "We are delighted to continue our ongoing support for St Luke's.
"Party Gras will be a colourful, lively event – one surely not to be missed!
"We are pleased to be supplying the internal furnishings and technical equipment for the event.
"It gives us enormous pleasure to help raise funds for such a worthy local cause.
"The key to life is not accumulation, it's contribution.
"We urge you to come and contribute and help raise funds for this wonderful hospice. We look forward to welcoming you on the night."
Any other local businesses keen to support the event should contact Claire Langston at St Luke's Hospice on 01606 555 812 or email [email protected]
Find out more about Party Gras and book tickets at https://www.partygras.co.uk/