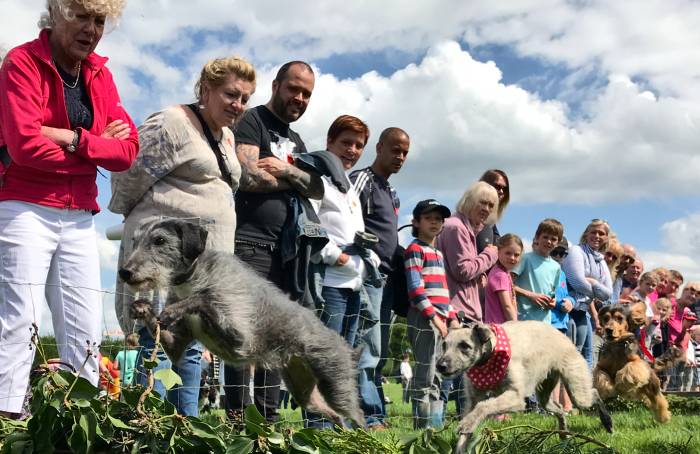 Hundreds of families flocked to the village of Marbury near Nantwich to enjoy its traditional two-day country fair, writes Jonathan White.
It was the 39th annual Marbury Merry Days event,  organised by St Michael & All Angels Parochial Church Council.
It takes places every May in the field next to the church and Marbury Big Mere, near Wrenbury.
Marbury Merry Days was officially opened by the Cheshire Dairy Queen Laura Bull and Dairy Maids Jessica Britland and Amanda Hollins.
The main attraction this year was the Terry Large Falconry Display with Terry demonstrating his skills and those of his birds of prey in the main ring.
Other attractions and events included a grand draw, bric-a-brac & book stall, cake stall, refreshments, cygnet bar, ice cream, a craft & gift fair, trade stands, a classic cars and motorbike display, children's activity area, model aircraft flying display from and over Marbury Big Mere, classic car parade, helicopter, North West Giants Dog Display (Saturday), GLOs Dance & Cheer Troupe (Saturday), dog & terrier racing, Pixton Puppets and a Fun Dog Show (Sunday).
Fun Dog Show classes were puppy (4-12 months), working dog, any breed pedigree, rescue dog, young handler, 'Heinz 57' and best biscuit catcher! Steve Leonard was the judge.
The best in show award was won by Staffordshire Bull Terrier 'Rocko'.
Attractions inside St Michael's & All Angels Parish Church included a spinning demonstration and floral decorations.
The event was sponsored by Bernard Corbett, Border Marquees, Bradeley Green Pet Store (Petcetera), Co-operative Funeral Care, DA Roberts Fuels Ltd, Green End Pharmacy, Holchem, Hype Hair Design, HJ Lea Oakes Ltd, Leonard Bros Vets, Lornas house, Prince Albert Angling Society, Surface Technicians, and Whitchurch Insurance Services.
Proceeds go towards the upkeep of the St Michael & All Angels Parish Church in Marbury.
Next year's Marbury Merry Days will take place on Saturday and Sunday May 11-12.
(Pics courtesy of Jonathan White)