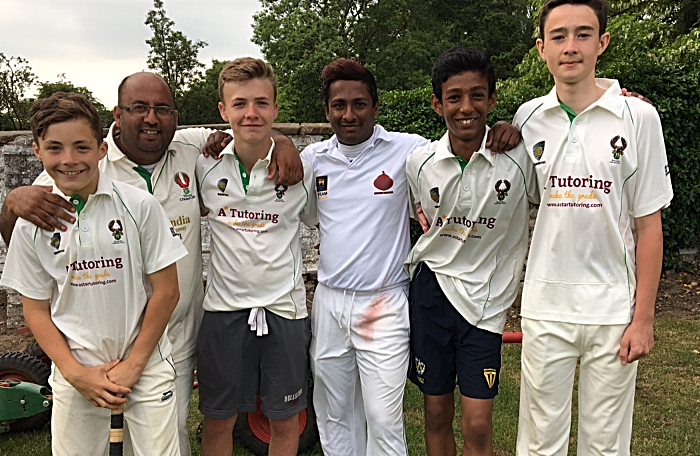 Four players aged 14 or under helped Woore CC 1sts secure a dramatic victory over Sandyford in Division Two of the North Staffs and Cheshire Cricket League, writes Roger Horwood.
An inescapable wedding and holidays meant Woore were four regular players short.
But instead of selecting more experienced players from the second team, Woore went for young blood – and it paid off!
All four youngsters are members of Woore's thriving Youth Academy which runs nine teams, seven boys and two girls, at various age groups and is rapidly establishing a name for itself for producing highly promising junior boys and girls.
Twelve-year-old Matthew Kenvyn opened the batting and facing some hostile short pitched deliveries from the quick Sandyford pace bowlers coped comfortably until being beaten by sheer pace.
Thirteen-year-old Matthew Waller opened the bowling and facing aggressive batsmen, coped well.
And 14-year-old Tom Saji played some lovely strokes including the shot of the match, an exquisite square cut which fizzed along the ground for a boundary.
Fellow 14-year-old Euan Morris held on to high pressure catch with Sandyford needing only five runs to win, which secured victory for Woore.
Woore have a dedicated policy of developing young players, and if they are considered worthy of a chance no matter what age they are selected.
With their ECB qualified coaches, many of who are still very very useful players themselves, the Academy is beginning to bear fruit.
"I can't wait for some of these lads to get a bit older," said 1st team skipper Tas Hussain.
It was Woore's seventh successive win since the beginning of the season to retain them top spot in the league.
With a dry pitch and fast outfield, surprisingly Sandyford decided to field first but it appeared to rebound on them.
Harry Oliver (41) got Woore off to a fine start aided by Hassan Ul Quasim Haleem (30) and Khalid Malik (28).
At one stage Woore were 92-3 but failed to capitalise on this and secure maximum batting points, and ended 161 all out in 52 overs.
In reply, Sandyford's first seven batsman all reached double figures but Woore's much feared bowling attack kept chipping away.
Fast bowler Kyle Morgan (3-33 off 11 overs) and spinner Tas Hussain (5-33 off 17.2 overs) helped reduce the opposition to 129 for 9 with 33 needed to win.
The ninth wicket had fallen to a superb catch by Matt Adams.
However the last two batsmen punished some loose deliveries before finally their number 11 Gareth Kinsey (26) ran out of patience and skied one to young Euan Morris who took a fine catch.
Next Saturday (June 16) Woore are away at Bagnall Norton, on the east side outskirts of the Potteries.
They are pushing Woore hard in second place, 25 points behind.
Meanwhile, Woore 2nds had a comfortable 4-wicket win at Betley, bowling them out for 138. Usman Yaqub did the damage, taking 6-47.
Veteran opening batsman Andrew Burton saw Woore through with an unbeaten 76, assisted by youngster George Walker (18) and Abbas Muktar (20).
They will be at home on June 16 against Bagnall Norton 2nds, 1pm start.
(Pictured from left – Matthew Kenvyn, Tas Hussain, Matthew Waller, club professional Dissanagge Eranga Thilna Rathnayake, Tom Saji and Euan Morris)