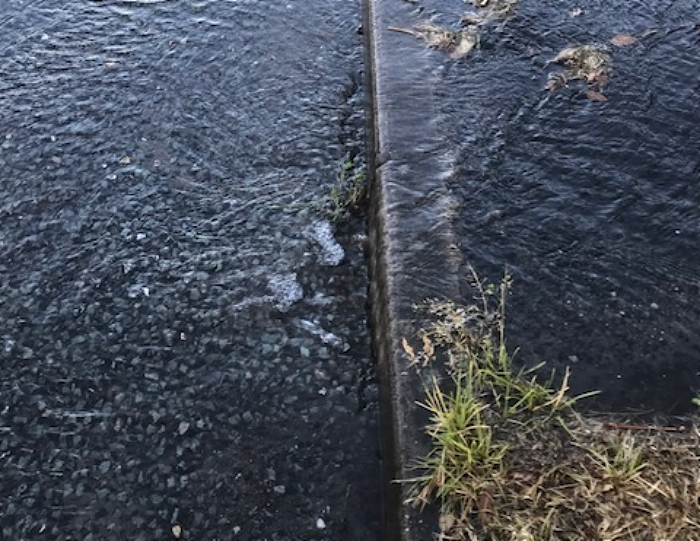 A Willaston resident hit out at United Utilities after the company threatened to impose a hosepipe ban on the North West from Monday.
UU says the recent hot and dry weather mean they are facing massive demand for supplies, pumping in an extra 500 million litres into the system each day.
Yet latest figures show the company also loses more than 450 million litres each day from leaking or broken pipes – including this seven-hour leak on Coppice Road in Willaston, near Nantwich.
UU made an operating profit of more than £630 million in 2017-18, a rise of 5%, but its Water Resources Review for the same year showed it lost around 453 million litres a day in leaks.
One Willaston man who reported the Coppice Road leak said: "I was shocked to see that United Utilities will have to consider hosepipe bans if the hot weather continues.
"Having walked my dogs along Coppice Road in willaston early this afternoon there was large water leak.
"I walked again several hours later and the water leak was still ongoing.
"They have the cheek to turn our water pressure down and let this happen!
"My wife reported the leak but nothing was done for at least seven hours.
"I have just been to look again and work has been started at last, not before hundreds if not thousands of gallons of water had gone down the drains."
Nearby Bridgemere Garden World on the A51 ran out of water yesterday and issued warnings to customers, while water trucks were seen parked up in Stapeley and other areas to inject more into the supply.
United Utilities warned its millions of North West customers yesterday.
In a statement, it said: "The hot weather means we're seeing a massive increase in water consumption across our area. Yesterday an additional half a billion litres was used and it has been the same today.
"We urgently need your help and support to avoid a hosepipe ban.
"You can help us by turning off your garden sprinklers, not using your hosepipes, not washing your car and taking shorter showers and not baths this weekend.
"The demand is so high, particularly during peak times, that we are struggling to get enough water around the system quick enough.
"If we can all do our bit this will reduce the risk of lower water pressure or no water at all."
But that prompted angry reaction from many on social media.
Phil Watson said: "One of the coldest and wettest Feb-April periods on record. Reservoirs all full to bursting point. Still no actual shortage of water. Invest in proper infrastructure, not letting my careful grown garden veg die due to your mismanagement."
While Terrance Benbow added: "We reported a road leak four weeks prior to you actually repairing it. Where was your enthusiasm behind water saving then? Four weeks' worth of water lost, down to you."