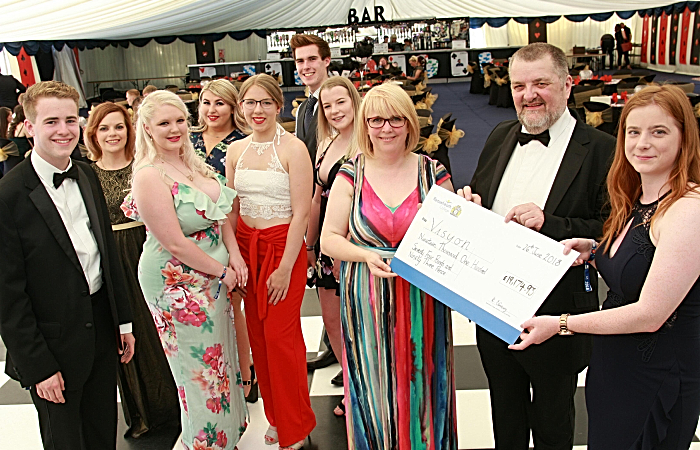 Big-hearted students and staff at Reaseheath College in Nantwich have raised a record-breaking £24,000 for local charities this year.
An impressive £19,175 has been handed over by members of Reaseheath's Student Association to Visyon – a Cheshire charity which supports the emotional health of children, young people and their families.
Representatives of Visyon, who helped 1,250 young people across Cheshire East and Staffordshire Moorlands last year, were guests of honour at the students' summer ball.
The money will be used to deliver a new support programme to help young people deal with online issues such as bullying and the consequences of gaming.
There are also plans to appoint 'young community ambassadors' to set up and run well-being groups through social media.
It is the biggest single community-fundraised donation the charity has received in its 24-year history.
Visyon CEO Gervase McGrath, a former Reaseheath student, said: "We were amazed at the amount of money raised through the college.
"Visyon is a community-based organisation, started by the community for the community.
"The funding from Reaseheath means a lot to us because it came from young people within our community, some of whom have directly benefited from Visyon.
"This generous donation, which we will use to identify emerging trends, means we can be innovative and forward thinking."
Students chose Visyon as their charity of the year because they wanted to highlight how it benefits local young people.
Student Association members have organised more than 100 events in RAG (Raising and Giving) Week plus fund-raising activities at Reaseheath's Family Festival and lambing weekends.
Student Association President Rhianne Edisbury said: "I am so proud and grateful for the amazing support of students and staff this year.
"There have been so many campaigns and everyone has pulled together to make them really successful.
"Watching a team of staff and students successfully climb Snowdon was my proudest moment. They raised around £6,000 for that event alone!"
Another £4,000 will be donated to other charities including the Royal British Legion.
(Pic, top:  Gervase McGrath and Sandi Marshall (Visyon) receive cheque from Rhianne Edisbury and Student Association members Dan Lee, Jess Neale, Lucy Brierley, Mali Ratcliffe, Ellie Thomas, Connor Cruise and Kerri-Anne Williams)