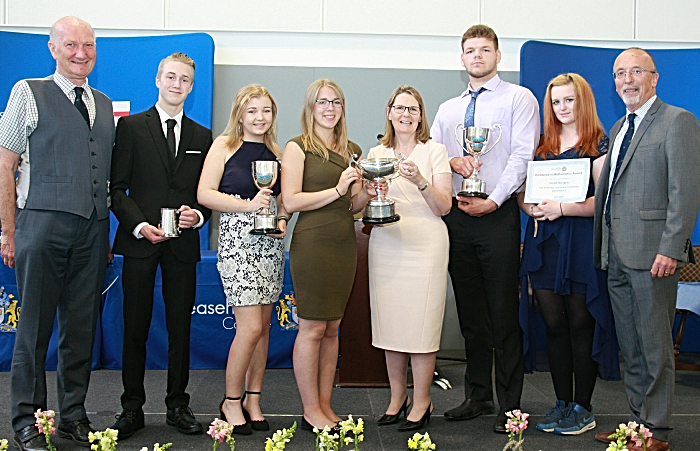 Reaseheath College in Nantwich has celebrated the achievements of more than 1,100 FE students at its annual awards ceremony.
Students, from across the UK and abroad, are now preparing for careers in a range of industries after completing their studies in Nantwich.
These include agriculture, animal or equine management, agricultural engineering, motor vehicle technology, business and events management, environmental conservation, fish management, forestry, food manufacture, floristry, horticulture, construction, public services or in leisure industries such as sport and outdoor adventure.
College Principal Meredydd David said the jobs market remained competitive and that the education and training Reaseheath's students received would make them highly employable in their chosen profession.
Land-based, engineering and associated industries are hugely important economic sector, contributing more than £110 billion a year to the economy and employing four million people.
The global challenge of food, water and energy security, fuelled by a growing world population and volatile politics, would increase demand for food production by an estimated 50% in 12 years' time.
Mr David added that this would create opportunities and he urged the students to use their skills and knowledge to 'make a difference'.
Reaseheath has completed nearly £80m of investment on campus to ensure its facilities and resources were first class.
The latest investment includes an agri-technology and advanced engineering centre, a sports science academy and laboratories, an extension to the college's higher education centre and further halls of residence.
Mr David also paid tribute to the Student Association and the RAG (Raising and Giving) team, who this year raised £24,000 for local charities and in particular for Visyon, a young person's mental health charity.
Guest speakers at the ceremony included Eileen Milner, Chief Executive of the Education and Skills Funding Agency.
Outstanding students who received cross college awards were:
Best contribution to college life
Rowan Braunton (Level 3 Extended Diploma in Agriculture)
As well as being a model student, Rowan is a talented DJ with an almost cult following among students. Always measured and professional, he used his popularity to encourage students to enjoy themselves responsibly and was respected by both staff and students.
Best all round contribution
Ellie Thomas (BSc (Hons) Wildlife, Conservation and Ecology)
As Student Association Vice President (Academic and Curriculum), Ellie had represented the student body with confidence and maturity at Governors' meetings.
She had also taken the lead on 15 campaigns which had included improving Reaseheath's approach to sustainability, broadening the careers offer college-wide and improving student awareness of alcohol and substance abuse.
Personal qualities
Megan Marriott (Level 2 Diploma in Animal Care)
Despite initially being shy, Megan had developed into a mature, conscientious and responsible young person who was an exceptional role model for younger residential students. The Under 18s Rep on the Student Association and a member of the Freshers' Crew, she was also a college ambassador and brought the Reaseheath experience to life for prospective students and parents.
Sporting activities
William Payne (Level 3 Extended Diploma in Agriculture)
An exceptional rugby player, both on and off the pitch, Will had been a key player for the college team as well as playing Colts games for Crewe and Nantwich.
Following his middle year industrial placement, Will used his enhanced management skills to help lead the team through an outstanding season concluding with third place in the North West AoC Sports League and runners- up position in the Regional 7s tournament.
Excellence in Maths
Sarah Burgess (Level 2 Extended Certificate in Horse Management)
Rico Garoui (Level 3 Diploma in Light Vehicle Maintenance and Repair)
Callum McHugh (Level 3 Subsidiary Diploma in Adventure Sport)
Excellence in English
Matthew Marsh (Level 2 Diploma in Animal Care)
Molly Johnson (Level 3 Subsidiary Diploma in Agriculture)
Zak Finch (CSKILLS Level 1 Diploma in Plastering)