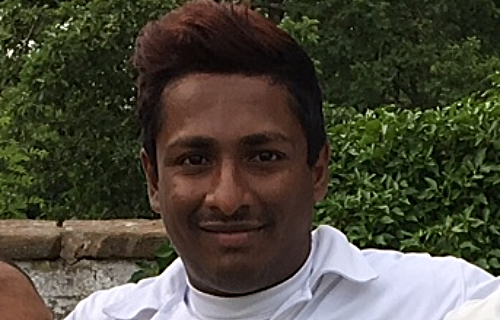 Woore CC's relentless march towards promotion took another huge stride as they beat Stafford to retain second position and a 59-point lead over their third-placed rivals Sandyford, writes Roger Horwood.
With another maximum 25 points win, the second half of the season is looking extremely promising.
And again it was Woore's overseas professional Dissanagge Eranga Thilina Rathanayake (pictured) to the rescue as he hit a century which put the game beyond reach as the visitors piled up 228 all out off only 44.1 overs.
Lowly Stafford elected to field first and at one stage must have thought they were in with a chance with Woore six wickets down for only 118 – 99 of those coming off the first 20 overs.
Opener Craig Ruscoe (32) led the way with the bat.
But thanks to a sensible partnership of 59 between Nick Reed (25) and pro Rangi, they regained the initiative.
And with the latter astutely taking quick singles towards the end of each over to shield the tail, he finished up scoring a superb 122.
Some of the little Sri Lankan's strokes, particularly straight drives off the back foot which shot across the parched outfield to the boundary, were of the highest order.
Overseas opening bowler Tino Mafusire from Zimbabwe (3-37 off 12.1 overs), fellow opening bowler Austrailian Luke Morien (3-83 off 17 overs) and Ethan Sheriff (3-44 off 10 overs) were the main wicket takers for Stafford.
The home batsmen began their reply steadily towards Woore's formidable total, with four of the first five reaching over 20 before being dismissed.
With skipper and opening batsman Robert James still at the wicket, and the score on 174 with only five wickets down, a nerve-wracking finish looked likely.
However, Woore's two spinners Tas Hussain (5-60 off 20) and "Rangi" (3-56 off 15,1 overs) once more paved the way and the last five wickets fell for only 29.
James was the last man out after a hard hitting 93.
He had occupied the crease for more than 53.1 overs, lasting almost three hours.
Meanwhile, Woore 2nds returned to winning ways after a difficult fixture against Leycett 2nds.
Darren Walker (79) and Craig Barcroft (45) helped the visitors to 182 all out off 38.2 overs.
Staffordshire overs 50s Skipper Andy Kenvyn with 3-41 off 12 overs,and a couple of wickets each from George Walker and Usman Yaqub, were Woore's most effective bowlers.
Thanks to yet another fine knock by opener Andrew Burton (69), 20 useful runs from number three Pras Amarasinghe, and a determined 23 not out from club stalwart Ben Johnson, Woore battled on to victory in 49.4 overs.
Next Saturday (July 21), Woore entertain local rivals Norton-in-Hales (wickets pitched 12.30pm) and the 2nds travel to Kidsgrove (1pm start).