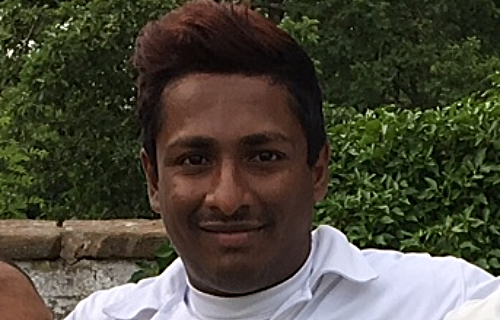 Woore CC 1sts completed the double over local rivals Norton in Hales and maintained their 59-point lead in second place over Sandyford, writes Roger Horwood.
And for the third time in the last four matches, Woore had their Sri Lankan professional Dissanagge Eranga Thilina Rathanayake "Rangi" (pictured) to thank.
He hit a superb chanceless century and eased his side to victory. He has smashed 383 runs in his last four games.
Norton won the toss and batted first, and hit 64 quick-fire runs before Woore could blink!
Jack Furnival hit 95 and Simon Dyer 45 scored freely all around the ground.
But Norton suffered a mini collapse from 64-1 to 76-4, and the pendulum swung Woore's way.
Spinners Tas Hussain and "Rangi" caused big problems for the visitors.
A terrific stand of 99 between Furnival and Angus Henderson (58) helped Norton to 176 for 5 and a formidable total looked possible.
But Woore's spinners came good again, and turned the game round with Norton restricted to 216 all out off 55 overs.
Hussain took 4-65 off 17, and "Rangi" 4-48 off 17.
In reply, Woore lost their first three batsmen for only 26 runs.
"Rangi" batted cautiously and helped by Hassan Ul Qasim Haleem (22)and Tas Hussain (20), they slowly built to 132-6.
Then Nick Reed (32) shared a vital partnership (59) with Rangi who exploded into action, bringing Woore within reach at 191-7.
The tail end stood firm despite aggressive Norton bowling, and "Rangi" finished on 107 not out and Woore won reaching 220-8.
Opening bowlers Kashif Ali Moon (3-54 off 15), Chris Dyer (2-42 off 12) and Mike Dyer (3-72 off 12.4) all battled hard for the Norton in Hales attack.
Woore 2nds, with five players of 15 and under in the side, experienced a hard time at Kidsgrove with the home team reaching 183-7 off 45 overs.
Eddie Henshall (28), Kian Davis (28 not out) and Jacob McIntyre (37) were the main run scorers.
Abbas Muktar with 4-53 off 15 was the pick of the Woore bowlers.
In a battling rearguard action, Woore eventually managed to secure a draw and seven points.
Usman Yaqub (22) and veteran Andy Kenvyn (19 not out) were the visitors' main scorers with the latter hanging on at the end with the score 103-7.
Next Saturday July 28, Woore 1sts visit Meir Heath (12.30pm start) and the 2nds are at home to Moddershall and Oulton 5ths (1pm).
More details can be found at http://woore.play-cricket.com/