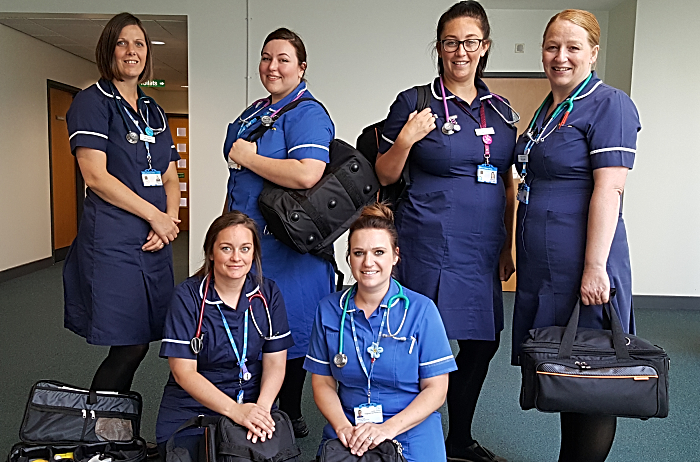 Big-hearted Leighton Hospital fundraisers have helped buy vital new equipment for a group of district nurses.
MCH Charity has bought 14 advanced quality stethoscopes and 18 specialised kit bags for the Eagle Bridge Community Nursing Team, part of Central Cheshire Integrated Care Partnership (CCICP).
The team of 18 nurses, who can see up to 50 patients a day, say the equipment worth £2,000 has made a huge difference to the quality of care they are now able to provide to the people they see.
Laura Reynolds, District Nurse Team Leader, said: "The new bags are perfect for the work we do.
"As well as having lots of useful sections for the kit that we need to carry, they are easy to clean and can be quickly adapted to a back pack, which is great for nurses who have back problems or who might have other equipment that they need to take with them.
"Previously we had standard stethoscopes, but the new ones mean that our service can now offer an enhanced, holistic assessment of acutely unwell patients, which includes people who may have sepsis."
Emma Robertson, MCH Charity Manager, said: "We're so pleased the charity has been able to provide these items for the team.
"This purchase was made possible by relatives of people who received palliative care at home by the team – they wanted to say thank you for the care their loved ones received and for the support the nurses gave them through the most difficult of times.
"The nurses have told me how pleased they are with the new equipment and, along with the charity, would like to say thank you to all those who have donated money which made this possible."