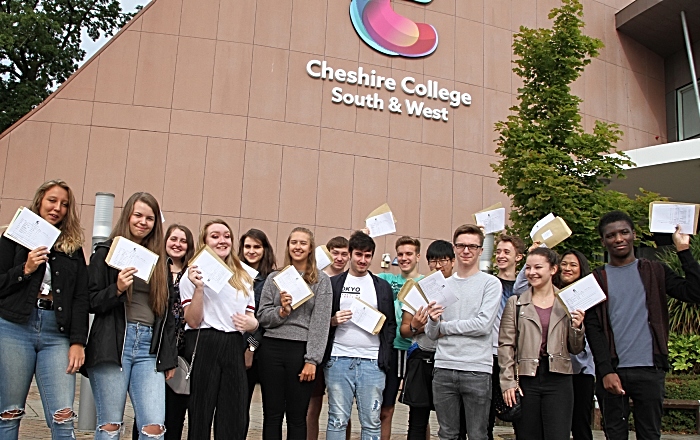 Staff and students at Cheshire College – South & West have celebrated A Level and AS Level results with an overall pass rate of 99.7% – more than 2% above the national pass rate.
Top results were achieved across a range of subjects, especially in Archaeology, Geology and German with 100% of students achieving A*, A, or B grades.
Overall, 87.7% of students achieved grades A*-C, an increase of 5.6% from 2016/17.
Many students have gone on to secure places at the country's top universities, including, University of Cambridge, University of Warwick, University or Manchester, University of Bristol, University of York and University College London.
Samuel O'Bree, 18, from Alsager, achieved A*A*A* in History, Economics and Government and Politics, will be going to University of Cambridge to study a Degree in Human, Social and Political Science.
He said: "I feel relieved, overwhelmed and delighted with my results and am looking forward to starting my degree at the University of Cambridge."
Christopher Hadwen, 18, from Nantwich, achieved an A*AA in Further Mathematics, Mathematics and Economics, will be going to University of Bristol to study Economics.
He added: "I really enjoy the college environment, it has a great atmosphere and my course allowed me to learn independently with great support from staff when I needed it.
"In September, I will be going to University of Bristol to study economics, which I hope will lead to a fantastic career in the banking industry."
Eve Stockton, 18, from Crewe, gained A*AA in Biology, Chemistry and Mathematics, and has secured a place to study Veterinary Medicine at University of Bristol.
She said: "I am so pleased with my results, I was in complete disbelief when I opened them and I can't believe I've achieved my dream of Studying Veterinary Medicine at University."
AS Level students also performed well, with an overall pass rate of 90%, which is an increase from last year's 89%.
Subjects such as English Language, Further Mathematics, Art and Design and Geology achieved 100% pass rate.
Other top achievements included Penny-Jane Prior, who achieved D*D*D* in Creative Media Production – Games Development BTEC Diploma and will be studying Computer Games Design at Staffordshire University.
Penny-Jane, 18, from Rossett, said: "I was considering studying Art and Design but noticed the Games Development courses at the college.
"The course has been great for me and last year I competed in the National Worldskills Competition and won gold in the 3D Game Art Category, after being encouraged by tutors to take part."
Sion McHugh, 22, from Buckley, completed his Level 3 NVQ in Bricklaying Apprenticeship, and secured a construction job while progressing onto a Level 4 HNC in Construction with the college.
Sion said: "When I was 16, I did not know what I wanted to do.
"A company looking for a bricklayer approached me, I spent a few weeks on a trial period and after this period ended, the company offered me an apprenticeship because they were impressed with my ability.
"I had been there for four years before being offered a full-time job. I am so happy that I came to the college, the tutors have been excellent and have helped me to achieve and develop in my career."
Rachel Ellis-Jones, Vice Principal – Curriculum & Quality, said: "We are delighted to have an unprecedented year of excellent A Level results with an even greater proportion of individuals achieving really outstanding results.
"The breadth of excellent results across so many curriculum areas, including science subjects, mathematics and languages, demonstrates the exceptional teaching and facilities that we offer here at Cheshire College – South & West.
"All of our students collecting their results today should be immensely proud of their achievements and we wish them all the very best for their future."