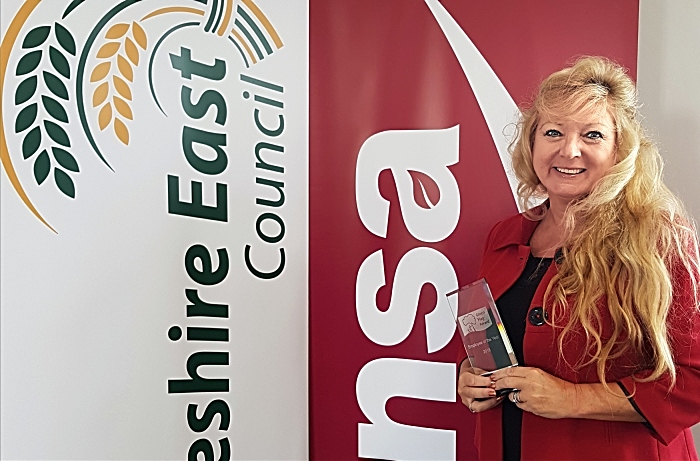 A committed parks and recreation manager in South Cheshire has scooped a prestigious national Green Flag award for her hard work and dedication at Queens Park in Crewe.
Elaine Webster, who recently celebrated 40 years service in local government parks and leisure services, was in disbelief when she discovered she had won the Green Flag Employee of the Year Award.
She had been nominated for the award by the Friends of Queens Park group.
Elaine, parks and recreational manager for ANSA, Cheshire East's wholly owned environmental services company, said: "It was a huge surprise to me!
"It's a national award so I'm really thrilled.
"However, I consider it is not just for me but for the whole team and all partners involved.
"It's really good news as it spreads the word around about our beautiful Queens Park, in Crewe – I recommend everyone should come to visit – it's a beautiful place!
"Paul Todd from Green Flag attended the ceremony and made an excellent presentation, together with the heritage accreditation award.
"We have also installed a 'wheelchair friendly' swing at Queens Park."
In July the council notched-up Green Flag awards for eight of its parks – including Queens Park – which is an important element of the council's commitment to 'quality of place' for the region.
Queens Park also secured 'Green Heritage Award' status for the 15th year on the run.
Friends of Queens Park secretary Sheila Blackburn, who led the group's nomination of the award to Elaine, said: "All these achievements would not have been possible without Elaine's enthusiasm, commitment and great passion for and belief in Queens Park.
"She is very approachable and strives for the different community groups to liaise and work together for the benefit of Queens Park as a whole."
Kevin Melling, ANSA managing director, said: "We are really proud of all the hard work and dedication Elaine has demonstrated over the years.
"She is truly deserving of the Green Flag Employee of the Year award.
"Elaine is a credit to the parks team who strive to deliver a beautiful environment for the residents of Cheshire East."
Cllr Rachel Bailey, leader of Cheshire East Council, said: "It's fantastic to see another award from Green Flag and Elaine's commitment and work recognised.
"We are so proud to have wonderful green spaces across Cheshire East for our residents to experience."
Elaine has helped to:
· Support Cheshire East's £6.5m park refurbishment initiative with the Heritage Lottery
· Constitute the Friends of Queens Park group and has supported the growth of the partnership as the volunteer group has evolved and gained support in the local community
· Overseen the celebration and re-opening of Queens Park, with HRH Duchess of Gloucester in attendance and more than 25,000 members of the local community
· Secure third successful year of Green Flag and only second year recognised with Heritage Award accreditation.
· Install history boards and launched the Park's first calendar last year
· Help and supported the new Café Service pavilion within the parks grounds