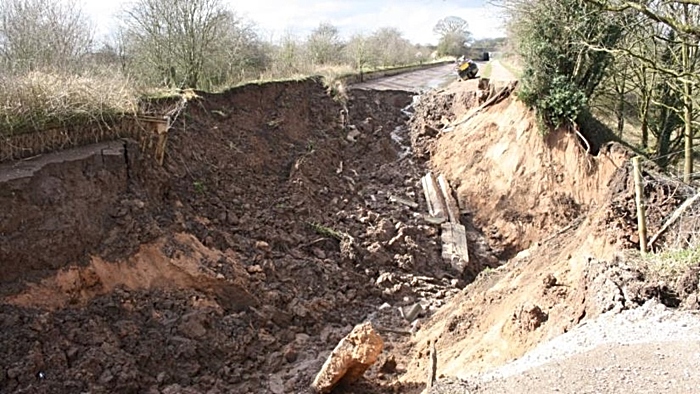 Work has started on the next phase to repair the Shropshire Union Canal breach near Middlewich after a giant 12-metre deep hole was left in the canal bank.
Paddle gates on the locks, which allow water into the canal, had been left open by a member of the public which caused the canal to overflow.
It resulted in a 4,000-tonne section of the 200-year-old embankment being washed away into the River Wheelock below.
The Canal and River Trust has said the damage is likely to cost around £3 million to repair.
The work is being funded by the Trust as well as donations from players of People's Postcode Lottery and the local community, which has already given more than £25,000 to an emergency appeal.
Canal & River Trust contractors have been installing dams either side of the breach, removing dangerous trees and rescuing stranded boats.
A temporary access road and construction site compound were set up next to the breach and an access route along the canal bed has been built to allow the physical repair work to begin.
The trust is hoping to re-open the canal by Christmas.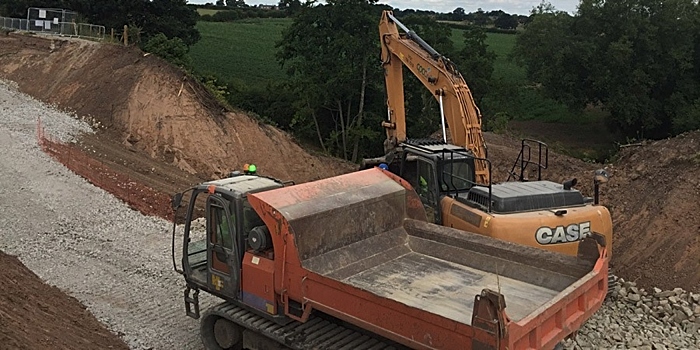 Andy Johnson, senior project manager at the Canal & River Trust, said: "A great deal of work has been completed to get to the point where we can actually start to repair this huge hole.
"Behind the scenes, specialists have been ensuring the ecology, heritage and environment around the breach is safeguarded and engineers have been working on the complex design plan required to repair the canal.
"I'd like to thank everyone over the last few months for their support and kind donations to help us with the repairs.
"This has really demonstrated the love that people have for the canal which plays an important part in people's everyday life."
The Middlewich Branch of the Shropshire Union Canal is a 10-mile stretch which runs between Middlewich, where it joins the Trent and Mersey Canal, and Barbridge Junction near Nantwich, where it joins the main line of the Shropshire Union Canal.
Anyone wishing to support the emergency appeal to repair the breach can log on to www.canalrivertrust.org.uk/breach or text LEAK515 to 70070 to donate £5*.
Donations will go directly to repairing the canal.
(pics courtesy of Canal and River Trust)