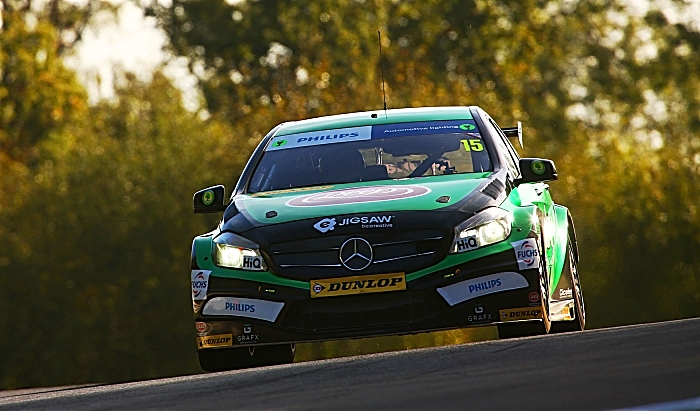 Tom Oliphant ended his maiden Dunlop MSA British Touring Car Championship campaign with a first ever fastest lap in the series and a hard-fought points finish at Brands Hatch Grand Prix circuit.
Tarporley-born Oliphant, who was crowned the Ginetta GT4 Supercup champion at the circuit in 2015, built up his confidence in his Ciceley Motorsport prepared Mercedes A-Class in two fine practice sessions.
And he bounced back from 20th on the grid in Sunday's opening race with a sensational first lap seeing him gain no less than six positions.
He went on to enjoy a starring role on the live ITV4 television coverage as he battled with title contenders Tom Chilton, Colin Turkington and Tom Ingram through the race, emerging 13th at the chequered flag.
That proved to be his 12th and final points scoring finish of the season.
His challenge in race two came to an abrupt end only four laps from the finish when a puncture caused him to slide off track at Druids corner.
Despite that, he posted the outright fastest lap of a race for the first time in the Championship.
It left Oliphant out of position for the start of the final race.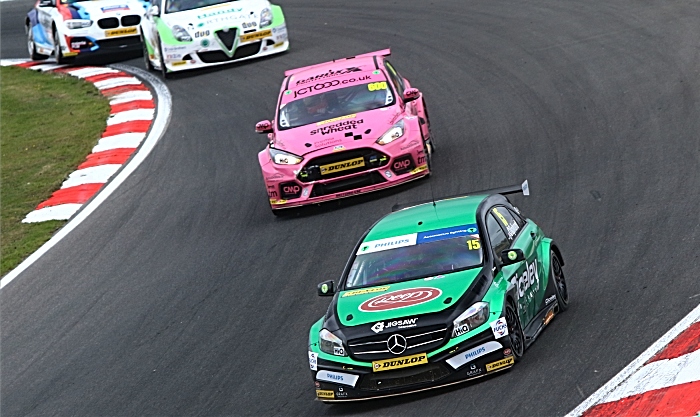 The 28-year-old showed quicker pace than others, but robust defensive driving would restrict him to 20th at the finish.
Oliphant said: "We tried something different with the set-up in free practice and it didn't really work, so we reverted back to what we know for qualifying and the car felt much stronger, but the session didn't come to me as hoped and I finished lower than I should have done.
"That put us right into the midfield battles for the races and with other cars having more grunt than us down the straights, it was difficult to go on the attack too much but I was able to pull off some good manoeuvres and the close racing was really enjoyable.
"Sadly the puncture in race two cost us what I thought could have been a hat-trick of points finishes across the day, but I gave it everything I had in all three races and I'm pleased that we proved our pace with our first ever fastest lap in the series.
"Overall, I'm very pleased with our first season in the BTCC.
"It's been very tough, with plenty of highs and lows along the way, but it's been the most enjoyable season of racing I've had for a long time and I feel I've developed well as a touring car driver.
"The close, competitive nature of the championship seems to suit me and with a bit more luck, having found myself on the receiving end of contact or suffered an issue with the car in most the meetings, I feel we had the pace and potential for a standout result.
"I head into the winter in positive spirits and I'm definitely looking to return to the BTCC next season, as I'm confident that with everything I've learnt this year and with the right package underneath me, I could go out there and challenge for the top ten in the championship."
(Images by Jakob Ebrey Photography)