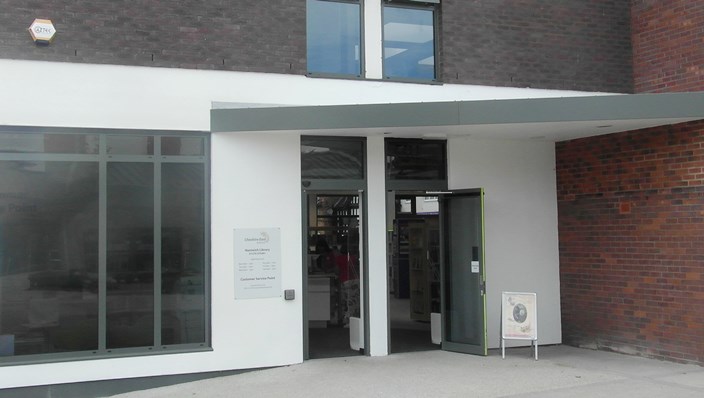 Nantwich Library is hosting a series of events and workshops over the next few weeks.
Here is a full list of what's on at the Beam Street venue for the rest of October and November.
Family Storytime
Saturday 27th October
11am
No need to book
Join local author Colette Warbrook as she reads from her debut picture book 'Help! I've lost my llama'
Halloween Storytime
Monday 29th October 11am
Free, no need to book
Come dressed up for some spooky fun!
Pyramid Engineering Challenge with staff from Institute of Civil Engineers and Balfour Beatty
Tuesday 30th October
2-3pm 6-9 years
3-4pm 8+ years
Booking required, free event.
Wednesday 31st October 11am
Halloween junk monsters – craft event
Free but booking required.
WWI Centenary Events
From Saturday 27th October up to Armistice, help us make a poppy for the library display. (Children)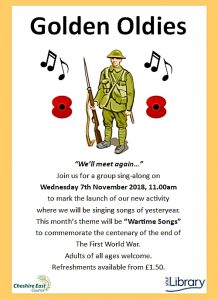 Wednesday 7th November 11am
Golden Oldies (pictured)
11am
Join us for a group sing-along on to mark the launch of our new activity where we will be singing songs of yesteryear. This month's theme will be 'Wartime Songs'
to commemorate the centenary of the end of The First World War.
Adults of all ages welcome.
Refreshments available from £1.50.
Friday 9th November
Book Lovers' Group 2-3pm
This month's theme is 'war' as we commemorate the end of WWI
Please bring along something you have read that covers this theme – it can be from any period in history.
Free, no need to book. All welcome.
Also, take a look at our display of local history material on World War I and II in the Crewe and Nantwich area, all week from 5th November.
ITea & Chat
Thursday 1st November
2.30-4pm
Drop in
Free, friendly advice on PCs, laptops, smartphones or tablets
Community Coffee Mornings
Every Friday from 9.15am-12pm
£1.50 for hot drink and biscuit
Hosts/activities for November include-
Winsford Wolves
Healthwatch
British Legion
Hope House
Craft session
Laura Smith MP surgery
Friday 2nd November 10am-12pm
Language conversation groups Tuesdays 6-6.45pm
French/Spanish
German
Dates for French/Spanish are 13th November, 27th November
Dates for German are 6th November, 20th November
Monday 5th November from 3pm
After school bonfire crafts
Drop in. Free.