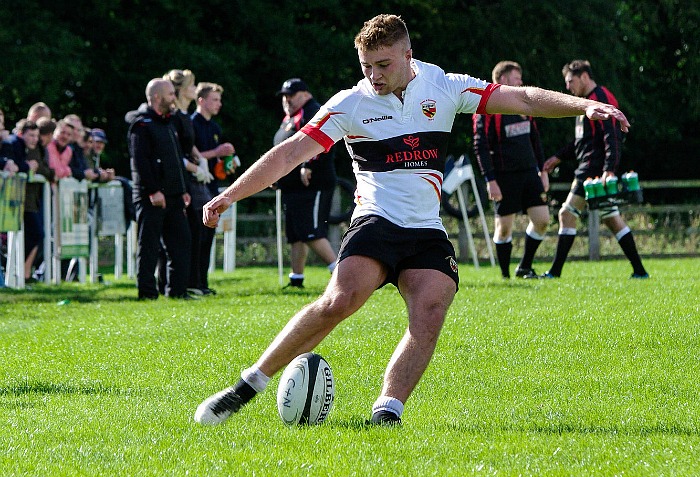 Crewe & Nantwich RUFC 1sts earned a hard-fought away victory in Stafford as they continue to improve on their early season performances.
The visitors made a strong start with scrum half George Colebourne scoring a try after 12 minutes, which was converted by fly half Jim Creighton.
Then 20 minutes, in Crewe conceded a penalty which resulted in three points to Stafford.
But strong scrummaging from Crewe set up a good field position to attack, stealing Stafford line and forcing an offside penalty to Crewe and three points were taken by Creighton (pictured) after 35 minutes, making it 3-10.
A series of penalties by Crewe gave Stafford the chance to close gap but they missed a penalty.
The hosts then gave away a penalty five minutes into the second half, but this time Creighton missed his attempt.
Crewe conceded a penalty at the break down, giving Stafford the opportunity to attack.
But excellent work allowed Crewe to regain possession and Eli Woodward ran the length of the pitch only to be tackled just outside the Stafford 22 and Crewe were pushed back.
An off the ball tackle on the Crewe scrum-half resulted in a yellow card to a Stafford forward.
This was followed by a second yellow card shortly after for the Stafford full back.
It gave Crewe the upper hand.
They won the ball back during a period of Stafford possession and following a line-out, they were able to move the ball wide.
Steve Outhwaite off-loaded to Colebourne who passed to Matt Stanley to make good ground. Colebourne retrieved and scored, with Creighton converting for a 3-20 lead to Crewe.
Offside at the ruck by Stanley resulted in a yellow card with 10 minutes to go, Stafford capitalised to score a consolation try by missed the conversion.
It was the final score as Crewe held Stafford out for a period of pressure and the final score is 8-20.