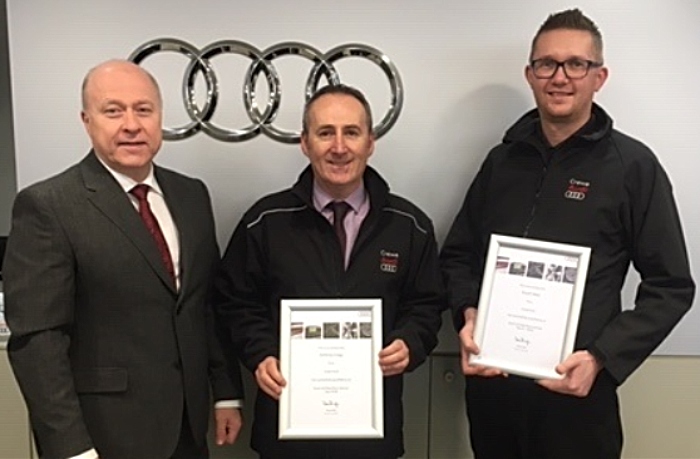 Crewe Audi staff have come top of the class after celebrating an Audi Accreditation treble.
The family-owned firm achieved the feat in two very different areas of the business – used car sales and parts advisors.
Head of business at Crewe Audi John Oakley said: "Achieving full Audi Accreditation in no mean feat.
"It takes a lot of extra work, in your own time, so plenty of commitment and determination is needed.
"I'm delighted our Used Car Sales Manager Dave Stubbs-Ambrose and two of our Parts Advisors, Stuart Elkes and Tony Cragg, have passed their final exams and become Audi Accredited.
"Our aim is to have a fully Audi Accredited team and we have the backing to do that from our directors at Swansway Motor Group; being family-owned they really engage with us and what we're trying to achieve.
"These latest are accreditations from totally different areas of the business, so it definitely feels like we're getting there."
Dave has been with Crewe Audi since 2015, but arrived with 11 years' experience with the brand.
Tony has been at the site since 2014 and Stuart Elkes can boast 10 years with Crewe Audi.
Swansway Director, David Smyth added: "We encourage everyone in Swansway to be the best they can be.
"For me, the best part of my job is seeing people grow and achieve, and this treble accreditation shows that people, across all areas of the business, are doing just that.
"Congratulations to all three."