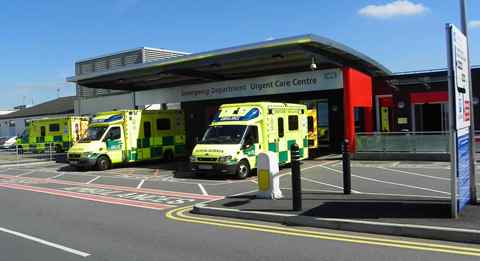 Leighton Hospital's A&E department has coped with the early winter months better in 2018-19 than last year, writes Stephen Topping.
Figures presented to the Mid Cheshire Hospitals NHS Foundation Trust board show 88% of patients were dealt with within the target four hours in November 2018.
That percentage was the same as in November 2017.
But Leighton's A&E department had 7,439 patients in November 2018 – 320 more than in the same month a year earlier.
Chris Oliver, chief operating officer at the trust, also told the board the figure for December stood at 84% – an improvement of 10% over the figure for December 2017.
Looking to January, he added: "We had a tough weekend, but it is still an improved position for us over last year."
Leighton Hospital bosses said the A&E unit had record-breaking levels of demand last winter, and the trust spent much of 2018 working on detailed preparation for this winter.
However, the department has failed to meet the national target of 95% of A&E patients being dealt with within four hours every month since August 2017.
Meanwhile, Cheshire residents aged 60 to 74 will soon benefit from a new bowel cancer screening test after health chiefs approved plans to improve the service.
At Monday board of directors meeting at Mid Cheshire Hospitals NHS Foundation Trust, they approved a business case to improve the Cheshire Bowel Cancer Screening programme – which runs across the county.
It will mean the existing test will be replaced by the more advanced Faecal Immunochemical Test (FIT), which was made available by the NHS in November 2017.
"I think it is great to see that we are going ahead of the curve," said Mr Oliver.
The new FIT home test kit is more accurate than the old guaiac test, and the trust hopes it will be easier for patients to use.
Mark Wilde, divisional general manager at Mid Cheshire Hospitals, told directors the expanded service is expected to rake in £435,000 income and that there will be 'no cost burden' on the trust.