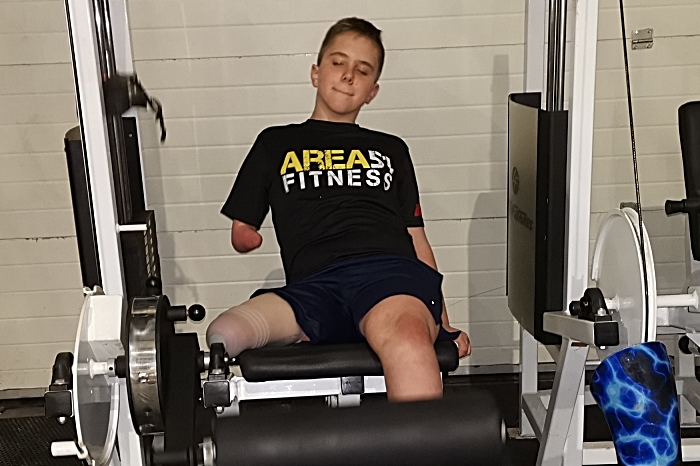 A young Nantwich boy born with a leg and part of his arm missing, is to climb Snowdon for a charity which sends seriously ill and disabled children on dream holidays.
Courageous Jack Wimpenny, 11, from Ravensmoor, has been in training as he prepares to take on the challenge.
And the former Acton Primary pupil, who now studies at Malbank, hopes to raise thousands for Dreamflight after he benefited from a dream holiday last year.
Jack has been in full training for the climb in July – encouraged by his mum and dad Ashley and Chloe.
And his former Acton teacher Julie-Anne Baker has been alongside him every training step of the way, with the help of Area 51 Fitness in Crewe.
When he was one, Jack had his first prosthetic leg fitted by a team at The Wirral Limb Centre in Clatterbridge.
"It was a tiny straight leg without a knee and it was held on with a big bulky strap belt around my waist but it did the job," recalls Jack.
"I learnt to walk and run and even ride on my scooter!
"When I started reception class I got my first ever prosthetic leg with a bendy knee joint.
"I had to learn to walk with a knee. It was amazing to be able to cross my legs like all my friends on the carpet!
"Sometimes my stump gets very rubbed and sore and I sometimes find it difficult to do the same things as my friends but I never give up I always find my own way and get there in the end."
Last October, Jack was invited to go on a Dreamflight holiday to Disney World Orlando with 190 other disabled or poorly children.
"It was amazing!" he recalls.
"We got to go on some of the fastest scariest roller coasters, meet all the characters, ride on water slides and much much more, my favourite part was swimming with the dolphins.
"Due to an illness, disability or family circumstance some of my new friends had not been on a holiday or been away from their family …. it really was a holiday of a lifetime."
Now brave Jack wants to say thanks by raising money for other youngsters to enjoy Dreamflight excursions.
On July 27, he will walk to the 3,560ft summit of Mount Snowdon to raise money so they can give more children the same opportunity.
Julie-Anne, from Nantwich, has been pushing Jack in his training at Area 51.
She said: "The challenges I have seen Jack face over the years are just no contest for his grit and determination.
"His love for life and every opportunity it presents is infectious and inspiring to all who meet him.
"When Jack's mum told me he wanted to do something to raise money for Dreamflight after what they did for him and all the other children, I suggested Snowdon and he jumped on the idea.
"So with the support of Area 51 Fitness, the training began!"
You can help by sponsoring Jack on his fundraising page here.