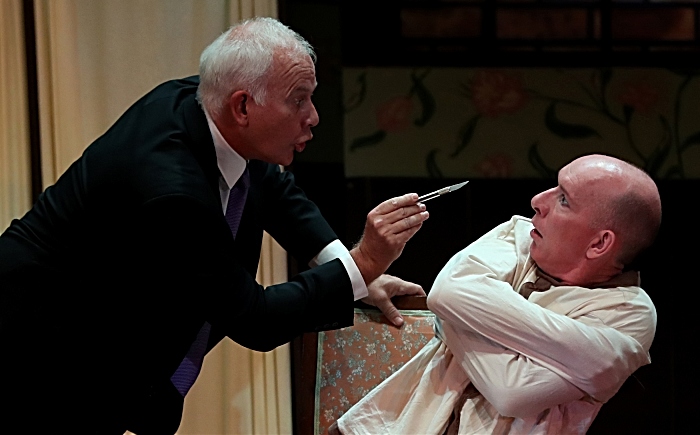 Two popular productions – Mindgame and The Picture of Dorian Gray – are coming to Crewe Lyceum Theatre.
Mindgame by Anthony Horowitz has been extended to cover a further eight venues on its tour, including South Cheshire.
It is psychological thriller from the creator of Foyles War, the BBC's New Blood, Alex Rider, the Sherlock Holmes novels House of Silk and Moriarty and the James Bond novel Trigger Mortis.
When Mark Styler, a writer of glossy 'true crime' paperbacks, tries to get an interview with Easterman, a notorious serial killer, he has no idea what he's walking into.
First he has to get past Dr Farquhar, the quixotic head of Fairfields – the asylum where Easterman is kept.
But soon he discovers that nothing is what it seems.
Who is the mysterious Borson? Where did he get the meat in the fridge? And why isn't the skeleton in the closet?
Anthony Horowitz is one of the most prolific and successful writers working in the UK – and is unique for working across so many media; juggling writing books, TV series, films, plays and journalism.
It is on at Crewe Lyceum in April 23-27.
In May, Tilted Wig Productions brings Oscar Wilde's The Picture of Dorian Gray to South Cheshire.
Co-produced with Malvern Theatres and Churchill Theatre, Bromley, it will be showing in Crewe between May 14-18.
Jonathan Wrather, known for his roles on both stage and screen, plays the part of Lord Henry Wotton.
Jonathan is best known to audiences recently for playing the controversial Pierce Harris in ITV's Emmerdale for two years.
The play, based on the classic novel, celebrates Wilde's wonderful language and will appeal to audiences old and new.
It is adapted and directed by Séan Aydon, designed by Sarah Beaton with lighting by Matt Haskins.
Featuring Wilde's famous wit and a stellar cast, The Picture of Dorian Gray is a fast-paced thriller that will keep you on the edge of your seat.
In a society obsessed with youth and beauty, Dorian is given the chance to keep his looks forever.
But at what cost…?
Katherine Senior, of Tilted Wig Productions, said: "We hope audiences will enjoy our classic re -telling of this famous novel as it still has such resonance with our modern day lives and with its utter timelessness should feel bang up to date."
Visit https://www.tiltedwigproductions.com/ or follow on Twitter @tiltedwiguk, Facebook @tiltedwigproductions
Times: Evenings 7.30pm, Wed & Sat Matinee 2.30pm.
Prices from £15.50 (Concessions and group tickets available).
Visit www.crewelyceum.co.uk, or call box office 01270 368242