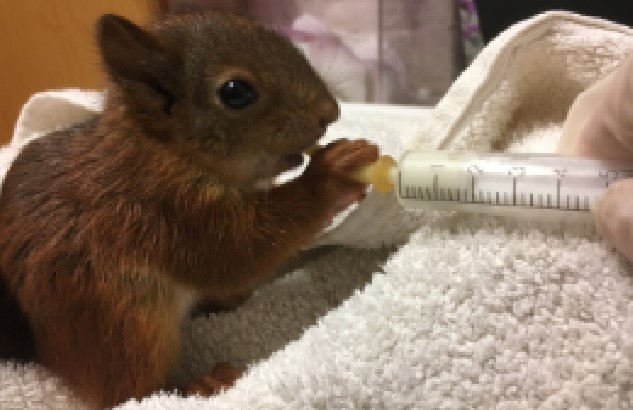 The RSPCA wildlife centre in Nantwich has admitted a rare patient – a red squirrel.
The elusive squirrel – a native British species which is only seen in certain parts of the UK – was admitted to RSPCA Stapeley Grange after being found orphaned in Liverpool.
It is only the tenth red squirrel taken in by the centre since 2012.
"The number of red squirrels we get at Stapeley Grange is so remarkably small so when one arrives it is exciting for the team to see such an iconic yet little-seen animal," said Lee Stewart, manager at Stapeley Grange.
"The squirrel was hand-fed initially four times a day but is doing much better now and should hopefully be able to go back to the wild soon."
The protected mammals have declined quite markedly in Britain over a number of decades and in England and Wales, they are now only found in a few areas.
"They are listed as a priority species for conservation in the UK biodiversity action plan.
"As well as competition with grey squirrels, habitat loss and the spread of diseases such as squirrelpox have contributed to their decline."
Meanwhile, an orphaned seal pup has also arrived at RSPCA Stapeley Grange, marking the start of the 'seal season' for the centre.
The common seal pup, nicknamed Squid, arrived on Friday August 9 after being rescued from a beach in Scarborough.
She is the first common seal to be admitted to the centre this season.
The centre receives mainly grey seals over the winter but the team are prepared for a smaller number of common seals from June onwards.
Last year, the centre received four common and 21 grey seals.
Squid is currently being fed fish "mackerel soup" five times a day with the hope that she will quickly gain weight.
Lee aid: "This poor seal pup was found separated from her mum on the beach and she was in an extremely vulnerable situation.
"After a week or so and pending weight gain and her interest we will try feeding her on whole fish, which can be quite a time-consuming process.
"Seal pups are initially tube-fed until they work out what they need to do.
"Once they are taking fish it's then plain sailing with regards their care, as soon after they will be taking fish by themselves, until then it can be quite stressful for the seal pups and those feeding."
Once they weigh over 40kg they can be returned back to the wild. Squid is just 12kg.
For information on what to do if you see a seal or pup on the beach alone, visit the RSPCA website here