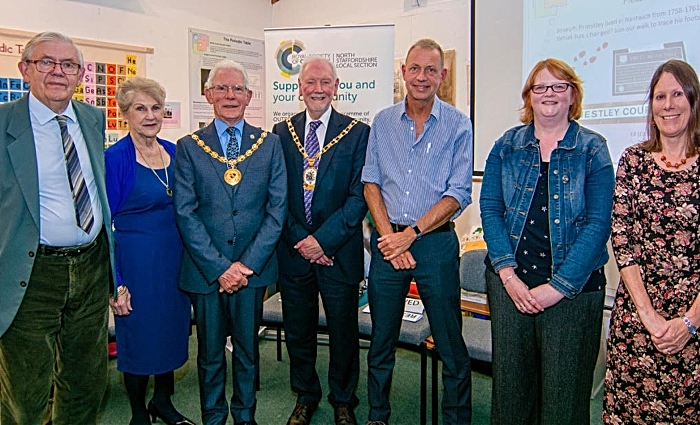 Nantwich Museum and members of the Royal Society of Chemistry (RSC) celebrated the life of Joseph Priestley.
The famous scientist, theologian and teacher was a resident of Nantwich for a time.
The celebration also coincided with the International Year of the 150 year old Periodic Table of Chemical Elements.
The reception was sponsored by the RSC who also sponsored the exhibition "From Nantwich to Oxygen: Joseph Priestley's Journey of Discovery" which is running in the Millennium Gallery at the museum until Saturday October 26.
Professor Mark Ormerod, Deputy Vice-Chancellor and Provost at Keele University, noted Joseph Priestley's contribution to an understanding of chemistry and described the Periodic Table as a thing of beauty for its simplicity and elegance.
He attributed Priestley's achievements to his dissenting background which imbued in him the "capacity to think" and a philosophy of problem-based learning.
It is then no surprise that Priestley is attributed with having introduced in his Nantwich school the first science lessons for boys and girls, and in 1761 published a book entitled The Rudiments of English Grammar based upon lessons given there.
Mayor of Cheshire East Council, Cllr Burkill, congratulated the museum on its interesting and informative exhibition.
He revealed his own scientific background, having been at one time a chemistry teacher.
Mayor of Nantwich Town Council, Cllr Arthur Moran indicated Nantwich Town Council's desire to continue its support as the museum goes from strength to strength.
While living in Nantwich, Priestley learned to play the flute.
A most memorable rendition, on a replica of an English flute of Priestley's time, of "How brightly shines the morning star" was given by local musician and early music expert David Owen.
Although attributed to J S Bach, who used it in numerous works, it was not necessarily composed by him.
Contact Nantwich Museum on [email protected], call 01270 627104, visit www.nantwichmuseum.org.uk, https://www.facebook.com/nantwich.museum/ and https://twitter.com/NantwichMuseum