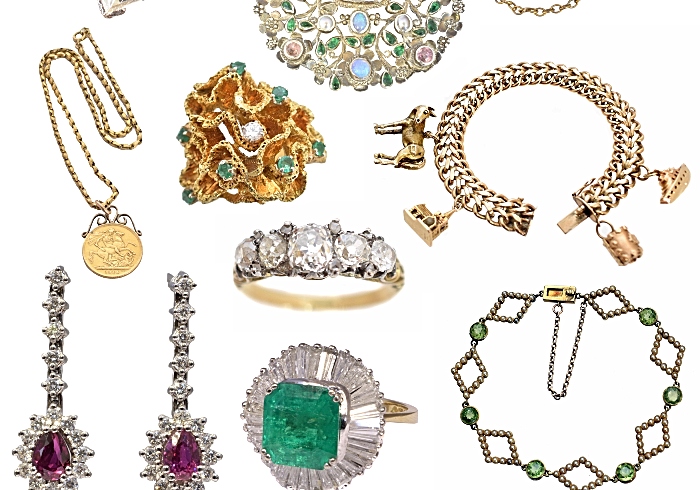 According to an article in the Independent in May 2019, women in the UK own more than £6.2 billion worth of unworn jewellery.
This study found that two thirds of women wore the same pieces from their collection everyday, instead of rotating pieces within their jewellery boxes.
With this fantastic figure in mind, it is definitely worth scouring your jewellery collection to see just what those pieces gathering dust could be worth.
Every week, we see clients come in with unworn jewellery that had largely been forgotten about, who are stunned when we tell them the estimate that we would place at auction.
Now is a fantastic time to sell jewellery, with the rise in precious metal prices linked with the current economic uncertainty.
This recent surge in the gold bullion price has met an 18 year high, making it a brilliant time to sort out which pieces are worn and cherished everyday, and which pieces could be sold to go towards that next holiday/renovation/investment.
By selling to a dealer, jewellery shop or bullion merchants, you are receiving a price from an individual seller, who has in mind their own overheads and profit margin to make, offering an individual price.
In contrast, selling a piece of jewellery at auction allows your item to be viewed and bid upon by a plethora of private and trade individuals.
The addition of internet bidding has opened this field of prospective buyers even wider, with registered buyers placing bids from overseas.
The Peter Wilson auction team in Nantwich has years of combined experience identifying, grading and researching thousands of jewellery pieces, and so are in the best place to offer sound and reliable advice concerning your collection.
Experts will place an auction estimate on your items, of which a reserve can be placed at the lower end, that can be doubled or even tripled if a number of bidders end up going head to head to secure their item of choice.
As such, selling jewellery at auction is a fantastic way to ensure that you maximise your financial return from your unworn jewellery.
With the way auctioneer fees work, it is in the auctioneer's very best interest to secure the highest price for you, of which they take a small commission.
Peter Wilson Auctioneers host obligation free valuation days on every Wednesday from 10am until 5pm, with a break for lunch between 12pm and 1pm.
Alternatively, their jewellery specialist Liz Bailey can make appointments and house visits to clients with larger collections.
Pieces that are selling particularly well currently include antique jewellery, designer jewellery and coloured gemstone jewellery, with diamond jewellery always the most coveted at our viewing events.
Contact 01270 623 878 or email [email protected] for further advice and information about Fine Jewellery sales.