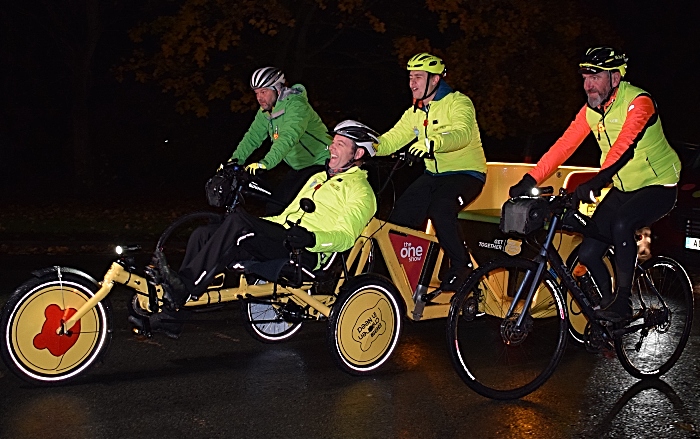 The One Show's Rickshaw Challenge annual fund-raiser for BBC Children in Need travelled through Nantwich and Crewe during an eight-day challenge to cycle 400 miles from Holyhead to London.
The Rickshaw arrived in Crewe on Monday night during a live broadcast of the BBC's The One Show.
The Rickshaw was ridden onto Memorial Square by The One Show presenter Matt Baker and Kelsey, aged 17, who is blind and plays a sport called Goalball.
BBC Children in Need fund Goalball UK to deliver Goalball activities and competitive opportunities for blind and partially sighted young people.
Kelsey was met in Crewe by his family and guide dog called Lacey.
Municipal Buildings was lit up with a huge Pudsey bear, Memorial Square shone with ornate lighting and there was an impressive display of Crewe-built Whitby Morrison ice cream vans.
There was also a Crewe Town Council organised lantern workshop on Memorial Square, with all creations made on the day to be paraded at the forthcoming LUMEN – Crewe's Night of Lights event in Crewe town centre on Friday 29th November (5-8pm).
Crewe was the half-way point of the Rickshaw Challenge and it was announced on-air during the programme that an incredible £1,115,852 had already been raised for Children in Need, the BBC's UK charity.
Matt Baker thanked the people of Crewe for their warm welcome and their support. Despite a gruelling day he took the time to chat to fans and pose for selfies – a true professional.
Team Rickshaw rested overnight in Crewe before departing early the following morning to head for Matlock Bath on the next stage of the journey.
On completion Team Rickshaw – consisting of Matt Baker and six young people – will have ridden to Flash, the highest village in the UK, and have tackled the steepest street in the world in Harlech, Wales.
(Images courtesy of Jonathan White)