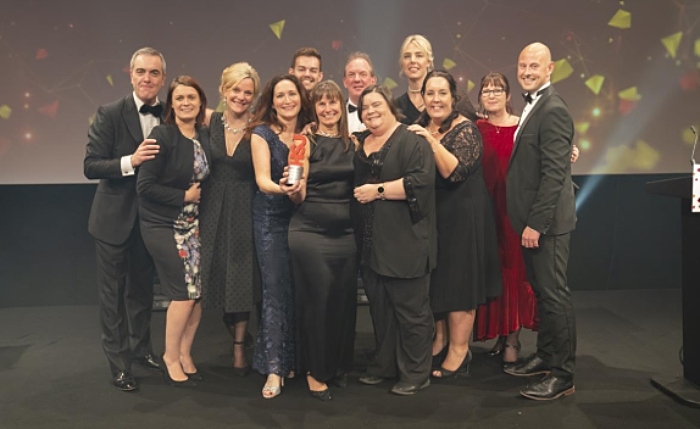 NHS South Cheshire Clinical Commissioning Group (CCG) has won a national award for a partnership project with a shared vision.
The project aimed to reduce the time patients spend waiting in hospital for discharge.
'A platform for telling your story once' was a partnership between NHS South Cheshire CCG, NHS Vale Royal CCG, Cheshire West and Chester Council, Cheshire East Council, Mid Cheshire Hospitals NHS Foundation Trust (MCHFT) and Central Cheshire Integrated Care Partnership (CCICP).
It was named winner of the Connecting Services and Information Award at this year's Health Service Journal (HSJ) Awards, recognising outstanding contribution to healthcare.
The award was presented at the world's largest healthcare awards evening at Battersea Evolution Centre, London.
The project has seen NHS organisations form a group with health and social care partners to reduce delayed transfers of care (DTOC) at Crewe's Leighton Hospital.
DTOC happens when patients who are ready to go home or be transferred to another care setting are unable to do so.
The system has grown to help reduce avoidable admissions at Leighton Hospital's Emergency Department by allowing patients to access more suitable services in the community.
Linda Banner-Perry, Commissioning Manager for NHS South Cheshire CCG and NHS Vale Royal CCG, said: "It's brilliant to be recognised for the collaborative work partners have undertaken over the past 12 months to implement 'a platform for telling your story once' project.
"The development of this single information platform in Central Cheshire has created greater connectivity between partners and more effective discharge planning, streamlining the Delayed Transfer of Care (DTOC) monitoring and reporting.
"Most importantly this shared digital platform has meant that patients no longer have to repeat their story over and over and as a system we have been able to use data from the system, to help commission the right services at the right time.
"This has also resulted in better patients' outcomes with more patients returning home and reductions in patients being delayed in hospital.
"We are now providing a much more efficient service, and the recognition that comes with this award will help to continue this program and roll it out across the whole of Cheshire."
Chris Oliver, Chief Operating Officer at Mid Cheshire Hospitals, which manages Leighton Hospital, said: "All partners involved should be congratulated, I know it means a great deal to staff to be recognised by the Health Service Journal in this way.
"We are absolutely delighted to have been named as the winners in the Connecting Services and Information category.
"Our priority is always our patients, the system that this group have created has saved significant staff time and resources but, more importantly, it's saved the need for patients to tell their story more than once and allowed them to return to their home environment quicker.
"The HSJ Awards continue to be the gold standard awards programme in healthcare, giving a boost to teams and organisations through improved morale and assisting with efforts to secure support for projects.
"Each winner serves as an inspiration to organisations up and down the country, spurring teams to improve and adopt best practices."