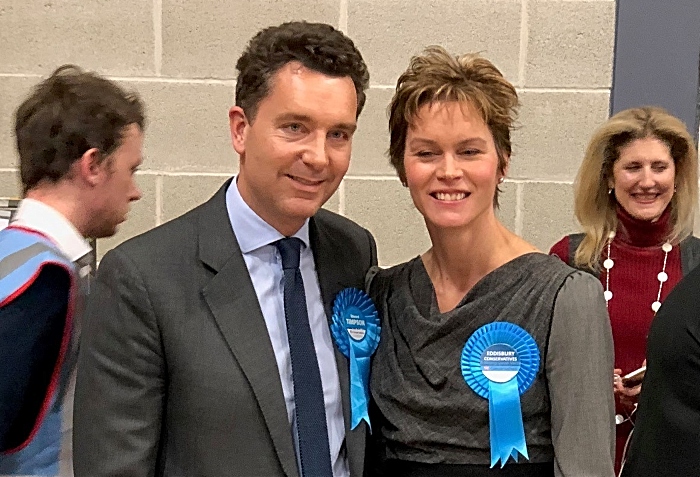 Eddisbury is Conservative again after Edward Timpson regained the seat for the Tories in emphatic style earlier today, writes Stephen Topping.
And he said that voters have had enough of "dither and delay" over Brexit.
The former Crewe and Nantwich MP – who lost that seat by just 48 votes in 2017 – sealed his return to Parliament with a comfortable victory.
Mr Timpson picked up 30,095 votes, giving him a majority of 18,443 over his nearest rival Terry Savage of the Labour Party, who picked up 11,652 votes.
Following his victory, Mr Timpson told the Local Democracy Reporting Service that he would "listen to the concerns of local residents and take those concerns to Westminster".
"It's fantastic to get such a strong mandate from the people of Eddisbury in this election," he said.
"I think it reflects the feeling across the country that people have had enough of the dither and delay of the last three and a half years.
"They now want us to get on, not only with delivering Brexit, but what lies beyond with the really important domestic agenda that we have in our programme for government which is going to be important for people here in Eddisbury.
"I want to see us benefit from all the new investment that's going to be coming in from improving our public service – including our bus services, our NHS, GP appointments, improving our broadband."
Antoinette Sandbach, who was elected as a Conservative MP in 2015 and 2017, finished third for the Liberal Democrats with 9,582 votes.
Eddisbury had been Conservative from 1983 until September, when Ms Sandbach had the whip removed from the party for voting against the Government in an effort to block a "no deal" Brexit.
She sat as an independent MP and had intended to run in Thursday's election as an independent candidate, before announcing she had deferred to the Liberal Democrats.
Ms Sandbach told the Local Democracy Reporting Service: "Obviously I am disappointed, but it has been an honour and a privilege to have been the MP for Eddisbury for the last four years.
"At the end of the day, I am a politician that put my constituents before myself.
"If I had wanted to put my career first I could have done what many other Conservative politicians have done and blindly voted for what would have been a really bad [Brexit] deal.
"I think it is a bad deal, I think it risks the break up of the UK with the possibility of a border poll on Northern Ireland and a second referendum in Scotland.
"I could not look myself in the mirror in the morning and feel that I had inflicted that on the UK – and I don't think it represented the best interests of my constituents."
Meanwhile, Louise Jewkes of the Green Party picked up 1,191 votes and UKIP's Andrea Allen won 451 votes.
Turnout for Eddisbury was 71.25% – lower than the 73.15% turnout for 2017, but higher than the 69% turnout in 2015.