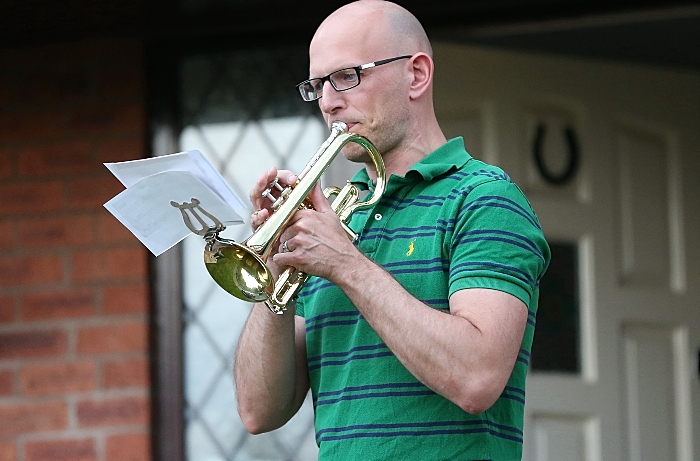 Wistaston residents have been fine-tuning the national "Clap for our Carers" campaign, writes Jonathan White.
Launched by Dutch Londoner Annemarie Plas, households across the UK have gathered at windows, on doorsteps and in front gardens every Thursday at 8pm.
They have clapped to show their support for NHS staff and other essential workers during the coronavirus pandemic.
Along with clapping there has also been banging pots and pans with a wooden spoon, car horns, police sirens and the occasional firework.
However, some local residents have also showed their appreciation by playing musical instruments.
Paul Chadwick, of Field Lane in Wistaston, has played his cornet each week.
And David Clews, of Westfield Drive in Wistaston, has played his harmonica each week.
Both Paul and David play different songs each week in their respective streets.
Paul said: "This is a salute to the NHS, carers and key workers for the amazing work they are doing.
"Playing the cornet helps to lift the spirit of the community and brings us all together ever Thursday through these difficult times."
David added: "After seeing several different instruments being played during the event shown on television, I decided to play my harmonica after we had finished our 'Clap for Carers'.
"The neighbours seemed to enjoy it and I have played every week since.
"I feel that music on an occasion like 'Clap for Carers' gives people a little time to reflect on why they are there."
A spokesperson for Clap for our Carers said: "Doctors, nurses, healthcare workers, emergency services, armed services, public transport staff, delivery drivers, porters, shop workers, teachers, waste collectors, manufacturers, postal workers, cleaners, vets, engineers and all those who are out there making an unbelievable difference to our lives in these challenging times… bravo, you are amazing!"