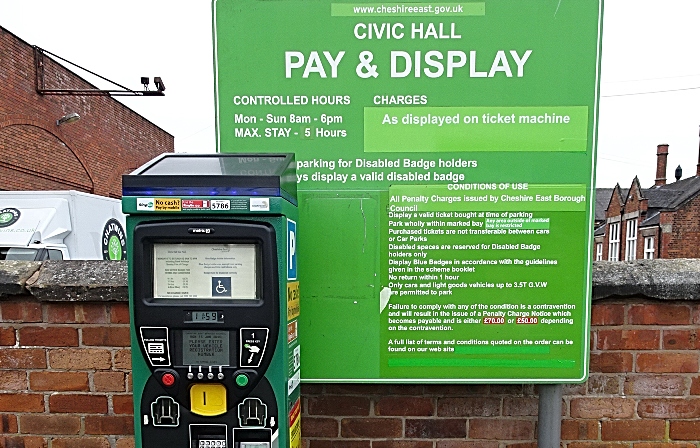 Dear Editor,
Labour-run Cheshire East Council are going to allow just four free days of parking in Crewe and Nantwich a year.
This is just a sop to the mountain of criticism the Labour Council has received from 'Putting Crewe First' and many others, for re-introducing car park charges after the Lockdown.
It doesn't go anywhere near far enough.
On the 1st of July, on behalf of 'Putting Crewe first', I put forward a petition to the council calling for the suspension of all car park charges in Cheshire East to help our town centres recover from the disastrous Lockdown.
The petition quickly obtained the required number of signatures and will now be responded to by the council.
Many shops have now re-opened after the three month long lock down and most will find it difficult to survive if trade is not encouraged.
If, in the future, the town centres are surviving better, then the Borough should only introduce car parking charges if ALL towns are treated the same.
Currently NINE towns in Cheshire East have NEVER had car parking charges, namely Sandbach, Alsager, Middlewich, Handforth, Prestbury, Poynton, Bollington, Disley and Holmes Chapel.
Crewe and Nantwich pay the highest parking fees in the Borough but in NINE other towns in the borough there has NEVER been parking charges since the Council was formed in 2009.
In 2018/2019, CEC Car Park Income in Crewe was a whopping £854,262 and in Nantwich it was a huge £718,595.
Now is the time to end this gross unfairness.
Town centres will have a really desperate struggle to survive after the lockdown.
The council should announce free parking across the Borough to encourage shoppers to come into the town centres.
It is not right that the people of Crewe and Nantwich have to pay for the upkeep etc. of the car parks where there are no charges.
https://moderngov.cheshireeast.gov.uk/ecMinutes/mgEPetitionDisplay.aspx?id=92
Yours faithfully
Cllr Brian Silvester
Leader – Putting Crewe First